Herb McCormick to Be the New Editor at Latitude 38
April 19 - Mill Valley
Latitude is thrilled to announce that after many years at Cruising World - including the last bunch as editor, plus being the sailing writer for the New York Times for three years - Herb McCormick will become the editor of Latitude 38 starting on June 1. His duties will be to oversee the entire editorial content of the magazine, plus covering all local and regional racing.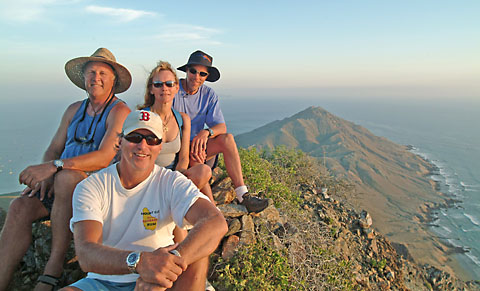 Herb McCormick, foreground, atop Punta Hughes, Baja California, during last year's Ha-Ha with crewmates (l-r) Andy Turpin, Senior Editor at Latitude, Suzi Todd, and Robert Sutherland.
Herb was born and raised in Newport, Rhode Island, the center of sailing on the East Coast. In addition to regularly doing evening races with and against many world class champions, doing Bermuda Races and other major East Coast events, Herb also has West Coast experience. He did the last West Marine Pacific Cup aboard Icon and the last TransPac on a Cal 40, and we got to know him when he sailed with us on last year's Baja Ha-Ha. Nonetheless, San Francisco Bay will be mostly new to him, which we think is great. Herb has also covered many America's Cups, around the world races, and cruising from one end of the globe to the other. But he's looking forward to meeting and writing about you!
The owner of a J/30, Herb is being very warmly welcomed by our very experienced and somewhat sleep-deprived senior editors John Riise and Andy Turpin, who are happily staying on after all these years, as is 'new guy' LaDonna Bubak.
As for me, Richard Spindler, the only executive editor Latitude has ever had, I'll continue to be in charge of the Letters and Changes in Latitudes sections, and no doubt produce several other tidbits, which will constitute about one-third of the editorial content. But with Herb assuming responsibility for the entire editorial product, I plan to spend more time sailing, do some charters with Profligate in Mexico, some other charters in the Caribbean, and generally cause mischief on sailboats and waterfronts around the world. I love sailing more than ever, and look forward to meeting more sailors - which has always been the best part of the job. Two of my big sailing goals are the East Coast of Australia and Thailand.