Geronimo Averaging Nearly 500 Miles for Last Several Days
April 17 - San Francisco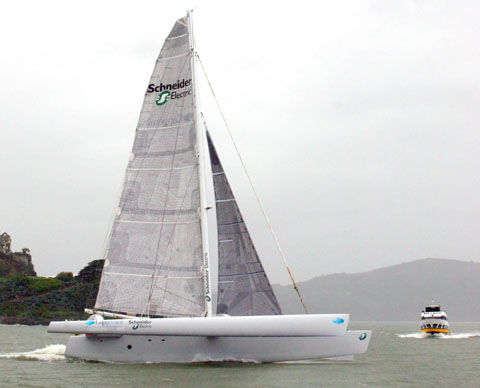 Geronimo during her brief visit to the Bay
Photo Geri Conser
Olivier de Kersauson's 112-ft maxi tri Geronimo left San Francisco in a rush for her assault on the record to Yokohama because if they didn't leave last Wednesday, the far offshore conditions wouldn't be conducive to a strong record. So while she left town quickly in one sense, she only managed to creep beneath the Gate powered by little more than zephyrs. And her first 24-hour distance was a pathetic - for her - 294 miles. As of yesterday, navigator Larry Rosenfeld reports things have much improved:
"Happy Easter! It's an incredible day out here. We're finally at the edge of the tradewinds and it's a picture perfect day for sailing. White caps as far as the horizon in all directions, frosting on the deep blue, clear sea. Spray is everywhere on deck. Poisson volant jumping out of waves, sea turtles busy on their way somewhere. The boat just barreling along at up to 30 knots. Every time the leeward floater goes for a dive, the whole boat slows down and shudders and shakes like a dog that's just gotten out of the water. Haven't reduced sail yet. Every line taut with thousands of kilos of anticipation for the next wave. Having too much fun blasting towards Hawaii which is now only 200 miles to our southwest. We continued all yesterday, through the night, and into today to rocket along at 20+ knots in a southwesterly direction. Our total mileage for Day 2 was 512 miles, Day 3 was 474 miles, and Day 4, which we just finished a couple hours ago, was 468 miles."
Unless she drops her rig or her rudder falls off, Geronimo will crush the current 19-day record held by Steve Fossett and Lakota. So far she's been averaging just under 20 knots, and doesn't even need to average 10 knots the rest of the way to claim the new record. See www.rivacom.fr for more.