Tremendous Excitement At Latitude 38
April 14 - Mill Valley

Speaking as the founder of Latitude 38 and the publisher for all 29 years, I, Richard Spindler, can report that there has been a tremendous buzz around the office the last couple of weeks. About six months ago, I finally accepted the reality that it was my responsibility to the readers, employees, and my kids to make sure that if something happened to me, Latitude would be in great shape to continue on with the same kind of quality. Toward that end, there has been a major reshaping of the company, of which I am extremely proud.

The biggest change is that Latitude will have a new editor starting on June 1. It won't be just any guy, but the one guy in the country - no bullshit - who I feel has the experience, skill, and enthusiasm necessary for the job. Due to his current commitments, I can't reveal his identity until the start of the Strictly Sail Pacific Boat Show in Oakland next week, but I think it's a huge coup for Latitude, and more importantly our readership. As for you racers who feel that our coverage hasn't been as strong since the departure of Rob Moore late last year, you can rest easy. But that's just one aspect of his experience and expertise, as he brings the whole package.
Before anybody freaks out, it's not as if I'm heading for the hills or swallowing the anchor. Indeed, I'll still be doing all the Letters and responses - which set the editorial tone for the magazine, plus all the Changes in Latitudes. Those alone are about 30% of the editorial content. And I can't imagine I'll be able to stop myself from the occasional Latitude interview and cruising articles. Nonetheless, my challenge is to, as much as possible, get the hell out of the way and let the new team blossom. In addition, I plan on heading up a limited number of Southern California charters with Profligate in the late summer and fall, some sailing/surfing charters with Profligate on Banderas Bay - one of the really great, convenient, and inexpensive charter destinations for West Coast sailors - as well as some winter charters in the Caribbean. I've been wanting to get back into that special kind of fun for a long time. Furthermore, there is no end to my extreme interest in being the volunteer Grand Poobah for all the Baja Ha-Has for as long as Ha-Ha Honcho Lauren Spindler will let me.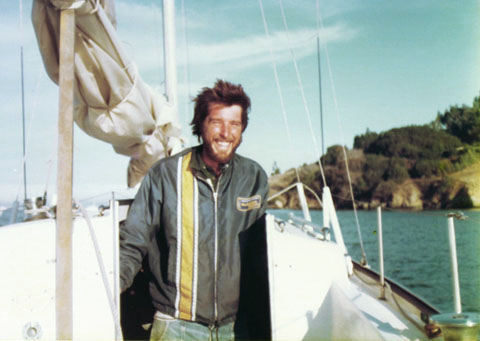 Richard Spindler, aboard his Bounty II Flying Scud, at anchor at Paradise Park, after an afternoon of beating into 30-knot winds coming back from the Delta. The year was 1976, and he announced, "I'm going to start a sailing magazine."
As for the rest of the editorial department, long time senior editors John Riise and Andy Turpin, who have done such tremendous work for so many years, are happily staying on and hoping maybe they'll get more sleep than in previous years. Also not going anywhere is LaDonna Bubak, 'the new guy'.

How interested is the Latitude editorial team in sailing? The new editor has his own boat, regularly does several beer can races a week, and is a veteran of events such as the West Marine Pacific Cup, the TransPac, and the Ha-Ha. John Riise just bought a new-to-his-family Columbia 36, and his wife is pushing him to enter the boat in this fall's Ha-Ha. Andy Turpin and his wife have about had it with their living on land, and are shopping for a boat with an eye to living aboard and eventuallly cruising. And LaDonna, who recently cruised to Alaska and back with her guy, lives aboard in Sausalito. After all these years, the entire Latitude team remains passionate about sailing. It's my firm belief that we will now have the strongest editorial team the magazine has ever had.

No less important - because you can't publish a huge free sailing magazine without revenue - is the addition of Shawn Grassman, as our second account executive. Grassman is leaving a very lucrative position in another field because he's so passionate about sailing. He's been bowman on the very successful J/24 Mr. Toad, and trimmer on Bonito, which has been the Santana 22 Season and National Champion numerous times under the ownership of Mike Andrews. In addition, he's a member of the Encinal YC and his growing family own a Snipe. As such, he brings the small boat, growing family, East Bay perspective to Latitude.

The last piece to the puzzle is getting a replacement photoboat. We're searching high and low, but haven't found the right boat yet. We hope to have that problem solved within six weeks, and after that, more and better photos than ever.

Damn right we're all excited around Latitude!