Singlehanded Farallones
April 12 - Gulf of the Farallones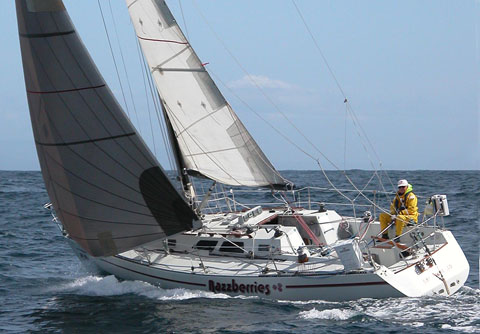 Westbound and down - Bruce Nesbit heads out on Razzberries.
The consensus so far is that the Singlehanded Farallones Race on Saturday, April 8, was one of the most spectacular sailing days outside the Golden Gate that anyone can remember. The usual dreary skies and almost no wind morning start off the Golden Gate YC gave way to bright sun, 10-15 knot breeze and brilliant cobalt-blue seas outside.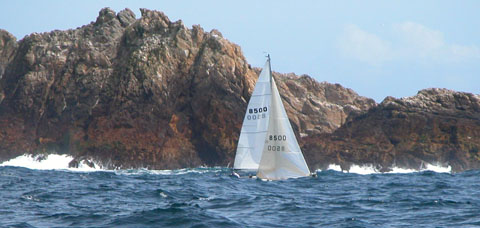 Ben Mewes on Mirage rounds the Rocks. Recent rains have made the normally desolate island look almost appealing.
Forty-nine boats started this Bay Area classic, which dates back to the late '70s. Forty finished. Notable performances included that of Synthia Petroka, the only woman in the race, who was late for her start but rallied to win Division 4 on her Hawkfarm Eyrie. In the 'big boat' division, Jim Coggin on Auspice was pleased to have held off Farallones master Dave Hodges' Timber Wolf boat-for-boat in the homestretch, crossing the finish less than a minute ahead (although Dave saved his time to win the division).
And then there was Richard Rollins on the Peterson 323 Libations Too, the last boat to finish, at 11:47 p.m. It was Richard's first solo race, first time outside the Gate and - well, actually, it was his first race ever. He spent a lot of time on the Singlehanded Sailing Society online discussion board (SSS hosts the Singlehanded Farallones) in the month preceding the race, asking questions and getting tips and encouragement. When the wind died at twilight, and most of the DNFs happened, Richard - cheered on by the race committee who could see his lights bobbing ever so slowly toward the finish - hung in to complete what he had started. Good on ya, mate!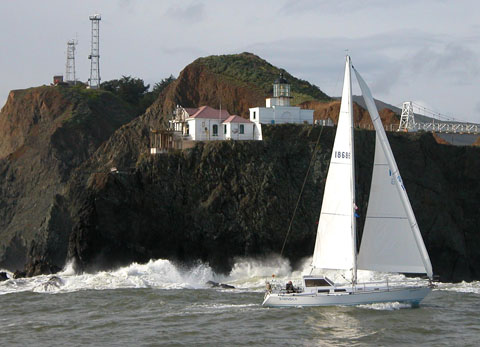 Svenska passes Point Bonita on the way in to a Division win.
Photos Scott Wells
Here are the winners of the six divisions:
DIV. 1 (multihull) - Wingit, F/27, Ray Wells
DIV. 2 - Timber Wolf, Farr 38, Dave Hodges
DIV. 3 - Ragtime, J/92, Bob Johnston
DIV. 4 - Eyrie, Hawkfarm, Synthia Petroka
DIV. 5 (non-spin) - Svenska, Peterson 34, Fred Minning
DIV. 6 (sportboat) - Sleeping Dragon, Hobie 33, Mark Halman
Look for a feature on the Solo Farallones in the May issue of Latitude 38.