World's Largest and Fastest Trimaran Hauls out in San Diego
March 24 - San Diego
After Geronimo's recent victorious record setting in the Los Angeles to Honolulu Transpacific Challenge of four days, 19 hours, 31 minutes, and 37 seconds, it took Driscoll Boat Works and Marco Crane only 2 hours and 23 minutes to lift out this 42,500 pound sailing trimaran on Tuesday evening.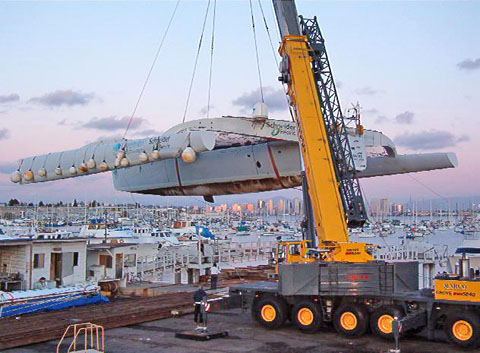 Photo Courtesy Driscoll Boat Works
Led by Frenchman Didier Ragot and six of Geronimo's crew, a 200-ton hydro crane lifted the vessel at the Driscoll docks. "It took three hours hook to hook including unstepping the mast. It was a great effort," said Geronimo Logistics Coordinator Rob Stirling. The 111-ft long, 70-ft wide maxi tri was lifted and spun 180 degrees in mid-air, lowered down, and blocked for its upcoming repairs at Driscoll Boat Works.
Geronimo's Skipper Olivier de Kersauson and his crew of eleven will attempt to add another record to their repertoire in April as they sail from San Francisco to Yokohama, Japan. Geronimo's world records include:
Los Angeles to Honolulu Challenge, November 2005
Tahiti Nui Challenge, August 2005
Around Australia, July 2005
Jules Verne Trophy, 1997 and 2003 (Record now held by Orange II)
See www.superyachting.com for more.