Fossett's Cheyenne (ex-PlayStation) to Become Support Vessel for Record Dive?
March 20 - San Diego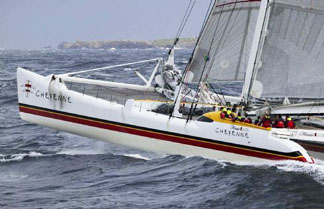 Photo Thierry Martinez
The 120-ft catamaran that set many world records, including the around the world record, is undergoing extensive modification in San Diego, and Marian Martin of BYM News reports the purpose is to make her a support vessel for Fossett's attempt to take a submarine to a record depth. The current record is 35,810 feet for a manned submarine and 36,008 feet for an unmanned submarine.
Fossett, of course, has spent much of the last 15 years trying to break records. He is said to still have his sights on the world altitude record. Swiss scientist Auguste Piccard is the last person to have held both records, and that was in 1930.
You want more? BYM News also reports that after the depth record, Cheyenne might be fitted with bio-diesels for an attempt on an around the world record under power.
What drives Fossett to attempt such feats? Some friends speculate it's an unconscious attempt at a form of immortality.