Raising Money for Olympic Sailing Campaigns and Talking About the Volvo
March 17 - San Francisco
Marin's Paul Cayard, intrepid skipper of Pirates of the Caribbean in the Volvo Race, was one of the auctioneers - along with Russ Silvestri, Bob Billingham, and Ron Young - at last night's St. Francis YC fund-raiser for aspiring Olympic sailors. While the event was all about the Olympics, naturally there was a lot of interest in the Volvo. According to Young, Cayard told him:
- That he hasn't been spooked by the controversial boats, which he's found exhilarating, and, in fact, is having a really great time.
- That although now in his late 40s, and eight years older then when he skippered the winning boat when the event was known at the Whitbread, he feels "as fit as all get out." He's lost about 10 pounds on the race, not that he needed to.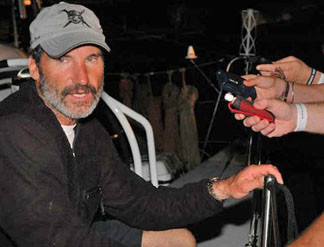 Cayard is pictured here giving a media interview upon arriving in Rio de Janeiro at the finish of the last leg.
Photo Martin Stockbridge/www.volvooceanrace.org
- The fastest they've clocked on Pirates is 39 knots, but he's pretty sure they've hit 40 because at the highest speeds the knotmeter often comes out of the water.
- The fastest point of sail is not downwind under spinnaker because the wave periods aren't long enough for extended surfing, but rather reaching in upwards of 25 knots of wind with a #4, staysail, and reefed main. In those conditions, sailing for long periods of time in excess of 25 knots is commonplace.
- When hit by green water at such speeds, it's like being blasted by a three-foot diameter firehose.
- The keel cants as much as 45 degrees, so when combined with the boat heeling another 20 degrees, the keel is sometimes 65 degrees from vertical. With the six-ton 'geek' hanging out there at the end of the 1.5 blade, it torques like crazy.
Young said that he and Cayard had a laugh remembering that it was exactly 20 years ago when the St. Francis YC's Golden Gate Challenge, with Tom Blackaller as skipper and Cayard as navigator, introduced the first boat with a canard (forward rudder), a concept now used on all Volvo entries and many other racing boats. The canard provides lift; today's canting keels provide stability.
The top auction item of the fund-raiser is time aboard Tom Perkins' soon-to-be-launched 287-ft Maltese Falcon in the South of France. Call the St. Francis YC if you want to bid, but don't delay.