Blue Blazes Takes Top Honors in San Diego to Puerto Vallarta Race
March 3 - Puerto Vallarta, Mexico
Dennis Pennell's San Diego-based R/P 50 Blue Blazes took top honors in both Americap Division 3 and in fleet in the San Diego to Puerto Vallarta race, which, for most entries, ended with a slow crawl to the finish line.
Winds were relatively benign off the Baja coast - never reaching more than 20 knots according to several sources - making this one of the more pleasant southbound races in recent memory, albeit absent of record-breaking performances.
Although racing in the Performance Cruising B Division, which gives motoring allowances, it was a point of substantial national pride that Marco Rodriguez's Acapulco-based Beneteau 40.7 Iataia took line honors Monday, 36 minutes ahead of Blue Blazes, which had started a day later.
Shortly afterwards, however, the winds out of the Sea of Cortez shut down, leaving the third boat, Jim Gregory's Pt. Richmond-based Schumacher 50 Morpheus, stuck in a hole overnight. Others, farther up the line suffered a similar fates, dodging glassy holes until Wednesday afternoon.
Finishing 1, 2 in Division 1 were Mike Campbell and Dale Williams' Dencho 70 Peligroso, and Dave James' maxi Scout Spirit. Dennis Conner's SC 70 Mongoose won Division 2, followed by John MacLaurin's Davidson 52 Pendragon. In Division 3, Morpheus took second behind Blue Blazes.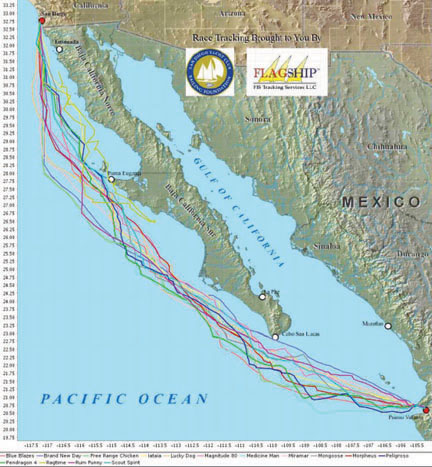 Although this was not a particularly dramatic PV race, a high-tech innovation made it more accessible than ever to enthusiasts back home. This was the first West Coast race to use the FIS Flagship tracking software, which gave both the race committee and armchair spectators an up-to-the-minute online view of each boat's progress (as in the image above). Each boat was fitted with a transponder which broadcasted its course, speed and position in real time, translating it to a color-keyed visual on the Flagship Web site.
As you will see if you check out http://fistracking.com/pv/index.html, the highly sophisticated display can be set to view a single boat's track, a single class's track or the entire fleet. Racers, of course, were forbidden to access this data.
Use of this technology is now being debated for the 2007 TransPac and other offshore races, and, if reaction to this trial is any indication, we'd bet the idea will eventually get a big thumbs up.