Dennis Conner Needs You to Come Visit with Your Boat
February 22 - New York, NY
Dennis Conner, who learned to sail and built his reputation based out of sleepy San Diego, is taking on the Big Apple as Chairman of North Cove. What is North Cove? It's nothing less than "New York City's most glamorous waterfront venue, and is located directly in front of the World Financial Center and just a few blocks from Wall Street." We'll let Dennis tell you why he wants you to visit:
"Hi, I'm Dennis Conner. I've won the America's Cup four times. I know a thing or two about commitment and excellence. Being at the pinnacle of sailing has given me a great opportunity in life. I've traveled all over the world and met many fascinating and accomplished people. When you put your mind to something, you can succeed. I've demonstrated it. You've demonstrated it too.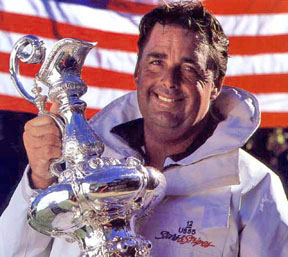 Dennis Conner
"Today, I am writing to you as the 'Chairman of the Board' of North Cove. From 1992 to 1995, I lived in Battery Park City, just a few blocks from North Cove. I kept my America's Cup catamaran in the marina. This is one of the most beautiful urban environments in the country. It's a special place. When I returned to North Cove following 9/11, I was grateful that the Battery Park City Authority was able to recover it after such a devastating event. Now, I am proud to be a part of the future of North Cove. I am helping to provide the vision and management to rebuild the marina. Our goal is to make North Cove an unforgettable port of call. We want to bring the world to North Cove.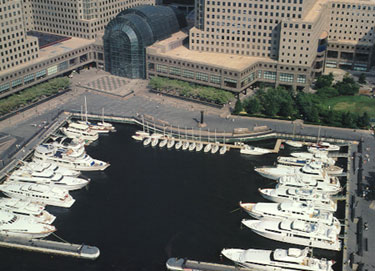 "This can be the greatest marina in our greatest city, but to make it happen, I need you to come visit. If you own a boat, please bring it to North Cove. We cater to mega yachts with 12 slips ready and waiting for our exclusive group of guests. We also have slips for historic vessels and smaller boats. Every boat is welcomed whenever slip space is available.
"New York City is our country's business, media and cultural capital. This is where deals get done, where you can live the high life and experience the best of everything. North Cove is your gateway to the Big Apple. Please bring your boat here at least one week each year. Use it to entertain clients and hold business meetings. Use your boat as your base for shopping, visiting the finest restaurant and Broadway shows and buying art. North Cove is the place to see and be seen."
Berth rates are $4-$7/ft per night, not counting electricity. Boats over 75 feet are welcomed with a case of Heineken. For information, call (212) 786-1200. You might also want to visit the marina's Web site at www.thenorthcove.com to learn about Dennis Conner's International Yacht Club Challenge to be held August 22-26 in J/24s. The event is open to amateur sailors from around the world, and could be a blast. Email them for details.