"The Best Three Weeks of Our Lives"
February 20 - Wellington, New Zealand
The Volvo 70 fleet left Wellington on the fourth leg of their around the world race. This one will take them deep into the Southern Ocean - although two gates have been put in place to try to keep the boats from going so far south that they risk hitting icebergs - where it's anticipated they'll 'enjoy' the wildest and fastest sailing of the race.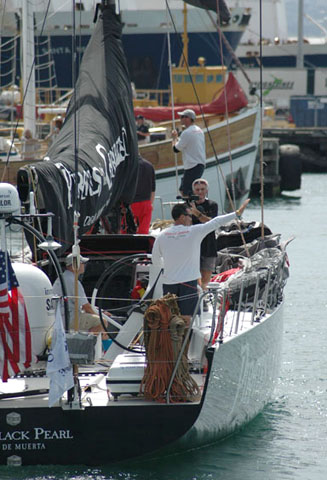 Cayard waves good-bye to Wellington.
Photo Robin Britton
Pirates of the Caribbean was the first boat across the starting line, with Paul Cayard at the helm. There are a lot of great sailors in the world, but is anybody as good at so many different aspects of sailing as Cayard? He's proven himself to be in the elite in everything from Stars, to one design keel boats, to the America's Cup - and then stunned everybody by winning the Whitbread. And now, he's taken a very late entry in the Volvo, and despite drastic setbacks and adversity, has demonstrated tremendous leadership while keeping the boat in the running. Our admiration for his talent grows with every passing day. And by the way, here's his first report of this leg:
"We had a great start on the Pearl and we are out of there! It is always fun to win the start of these offshore legs even if it probably doesn't mean much over the three weeks that we have ahead of us. But it is the time when you are in front of the public, television, etc., and everyone is cheering, the spectator boats are trying to keep up and with a spectacular back drop like Wellington harbor, I am sure the photos will be special.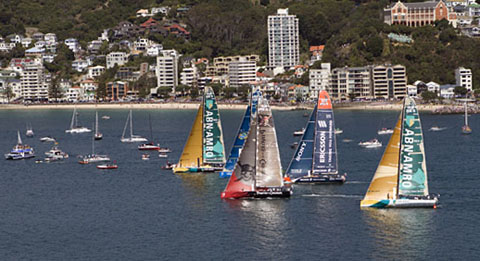 Leg 4 start
Photo Oskar Kihlborg
"It was a reaching start where we managed to hit the line at full speed, roll our competitors and lead the entire way on a short lap around Wellington Harbor. The wind was gusting up to 20 knots as we planed down the entrance of the Bay, a good show for sure for the very knowledgeable and appreciative Kiwi public.
"The good start was extra nice for the Pirates as the last 24 hours has been quite a scramble for us. One of our bow men, Curtis Blewett, got injured on leg 3 and went straight to the hospital for X-rays on our arrival Thursday. He underwent a series of treatments and injections to try to make it for this leg(his favorite), but early yesterday afternoon, his doctor told him he should not go. Being in a bind, we made a few calls to some of our Kiwi friends up island to see if they would help us out but they were not able to.
"At 17:00 we made the decision to take our sailmaker, Jeremy Smith. He had a bit on to meet the Volvo medical requirements, and we submitted his paperwork and received approval from the Race Committee for the substitution. Jeremy will do a great job, and it is breaks like this that can change a career for a young sailor like Jeremy, so I am glad he was able to step in.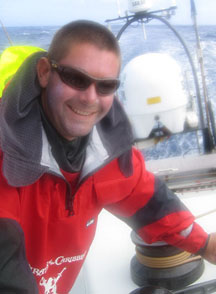 Jeremy Smith aboard The Black Pearl in leg 4
Photo Pirates of the Caribbean
All Photos Courtesy www.volvooceanrace.org
"We are currently about 30 miles off the southwestern cape of the North Island of New Zealand. We went through a transition in the wind shadow caused by the high mountains, but now we are moving at 20 knots again. We took the 'corner' wider than ABN AMRO One, our closest competitor and Brasil 1 and ABN AMRO Two tried to cut the corner as well. We have gained a lot on all of them. Ericsson has made a strong move to the southwest, staying out of the transition for longer, and that could pay off nicely for them.
"We are settling in now, starting our watches, cooking our first meal, stacking the boat with everything to port. The forecast is for 17-20 knots of wind, initially from 020 then backing to 345 over the next 30 hours or so. We have to sail around a high pressure system that is to our east so we are sailing a bit more southerly than we might otherwise sail.
"The mood on board is good and we are settling in for three of the best weeks of our lives, ones we will surely never forget!"