First Light Drifts to Barbados and Is Destroyed on the Beach
February 17 - Morgan Lewis Beach, Barbados
Former Tiburon residents Andy and Jill Rothman had the rudder break on their J/44 First Light 1,000 miles east of Barbados last month as they were crossing the Atlantic to the Eastern Caribbean to conclude a nearly nine-year circumnavigation. Despite great efforts on the part of the Rothmans and crew Bruce Ladd, and help from other boats, skipper Andy finally made the difficult decision to abandon the boat in the interests of safety. Another vessel picked them up and took them to Barbados.
Sailing west across the southern part of the North Atlantic is relatively easy, as the wind, swell, seas, and current all are behind you. So it wasn't a complete surprise to learn that First Light washed up on Morgan Lewis Beach in Barbados yesterday afternoon. She was first spotted offshore at 10 a.m., but for some reason it appears no attempt was made to save her - until late afternoon when a "large Caterpillar tractor" tried to pull her ashore. In the end, she was broken up, personal contents scattered over the sand. The boat had apparently drifted about 50 miles west each day.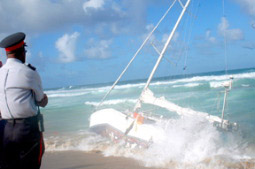 Photo Courtesy NationNews
What an unfortunate ending to a long and proud sailing career. What's even worse is to read some of the criticism the owners of First Light are taking on some of the sailing boards. As so often is the case, those who know the least, and who are unfamiliar with the quality of sailors aboard, and of other mitigating circumstances, are the most critical. Idiots.
We'll have a first hand report from the Rothmans in the March issue of Latitude 38, coming out Wednesday, March 1.