The Volvo Melbourne Inshore Race
February 6 - Melbourne, Australia
ABN Amro One, with St. Francis YC member Stan Honey navigating, continued their unbeaten streak in the Volvo Race, by winning a very exciting and entertaining inshore race held at Port Phillip, Melbourne, over the weekend.
There was lots of excitement even before the opening gun, as it wasn't clear if Brasil 1, dismasted in the last Southern Ocean leg, could make it to the line. After being trucked all the way across Australia, and just getting their new mast up hours before the start, they did join the other boats - and shocked everyone by doing superbly in the first four legs of the 24-mile event. Then they were enfeebled by a boat problem. If you're guessing the problem was with their canting keel, don't consider yourself clairvoyant, as problems with Volvo 70 keels have been the theme of the race.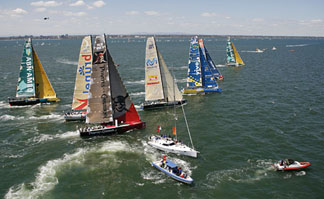 Photo Oskar Kihlborg
The first boat across the starting line in about 12 knots of breeze however, was Ericsson, with John Kostecki, also of the St. Francis, calling tactics. Unfortunately, race officials said they were only first across because they were over early, and had to go back. They ultimately rallied to finish fourth.
The line on the Volvo boats is that the ABN Amro boats, One and Two, are fastest in a strong breeze and upwind, while the Farr boats, such as Pirates of the Caribbean, skippered by Paul Cayard of the St. Francis, are better in lighter winds and downwind. And that's pretty much how it played out. While it was light, ABN Amro One was at times headed by Pirates and Spain's Movistar, but when the breeze came up to 20 knots late in the race, ABN Amro was gone. After the race, Cayard noted that in the inshore events, it's better to be faster upwind than downwind. Nonetheless, Cayard and crew hung in to finish second in front of Movistar, and this despite a clew blowing out on a spinnaker.
For everything you could possible want to know about the event - and more - visit
www.volvooceanrace.org.