Volvo Fleet to Sail Third Inshore Race at Melbourne Today
February 3 - Melbourne, Australia
The seven all-carbon, canting keel, around-the-world Volvo 70s will compete in their third inshore race later today at Port Phillip, Melbourne. Ericsson has flown in hired gun John Kostecki to navigate and call tactics. He and Ericsson have been tuning up with the recently repaired and reassembled Pirates of Caribbean, skippered by Paul Cayard. Both Cayard and Kostecki are St. Francis YC members from Marin who won the around-the-world event when it was known as the Whitbread and before there were any inshore races.
Cumulative fleet leaders are the Dutch boats ABN Amro One, with the Peninsula's Stan Honey as navigator, and ABN Amro Two. If there is more than 15 knots of wind today, the two boats are expected to dominate. If it's light, they are expected to finish at or near the bottom of the fleet.
Perhaps the biggest challenge of the event to date has been keeping the non-Amro boats in racing condition, as there have been huge problems -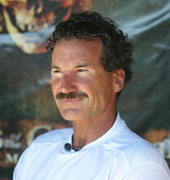 particularly with the canting keels. This has led to a lot of criticism about the new Volvo 70 design. Nonetheless, Cayard, whose Pirates of the Caribbean entry has suffered as much as any boat, has been a staunch defender of the design. Despite his boat's serious problems, Cayard has said he never would go to sea in a boat that he thought would endanger his crew. Based on his dispatched and press conferences, Cayard has been demonstrating tremendous leadership, seeming to almost be inspired by each successive adversity. His stock has always been high, but it's certainly being going even higher.
Photo Courtesy www.volvooceanrace.org