Overboard Craig McCabe Miraculously Rescued after 5.5 Hours in Cold Water
January 20 - Newport Beach
Craig McCabe, a long-time Knarr sailor who was and perhaps still is a member of the St. Francis YC, is well known to many Northern California sailors. After leaving his position with Hornblower Yachts on San Francisco Bay, the 59-year-old attorney moved south to Newport Beach, and began living aboard his classic Stephens 65 motoryacht Heather. Actually, he spent much of his summers on a mooring at Two Harbors, Catalina, where we saw quite a bit of him last year. He was still doing a little bit of legal work, but clearly was having trouble figuring out what to do with the rest of his life. After his stint in the water, he has some definite ideas.
On January 12, McCabe left Marina del Rey aboard Heather bound for Newport Beach. A lifelong mariner, he's used to operating her alone. Somewhere near the Long Beach breakwater, McCabe went to see if a lobster trap had caught in a stabilizer. It was early morning and there was a very thick fog. Somehow he went overboard into the 50 degree water, getting a big lump on his head in the process. Heather, of course, motored away. The autopilot had failed the previous day, so McCabe figured she would circle around and head back toward him.
Instead, in the first of many miracles, Heather inexplicably made a 90-degree turn, then headed straight for Avalon. So while McCabe struggled to stay afloat in the cold water, his boat made another of her leisurely crossings to Catalina Island, ultimately beaching herself near Avalon.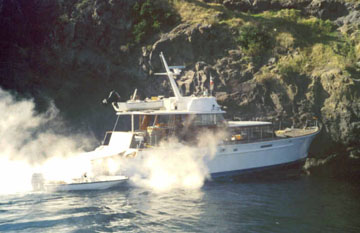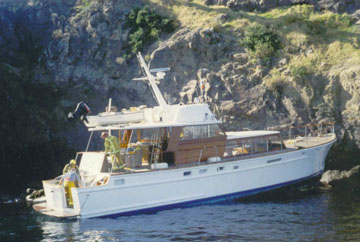 Photos Curt Cameron
When the harbor patrol found nobody aboard, they began searching the nearby waters. They also know McCabe and Heather, so they quickly called his brother Lance in San Clemente. Lance rushed up to Newport Beach, borrowed a friend's boat, and, deciding there was a greater chance that McCabe fell overboard by Long Beach, rushed up in that direction.
In one of the most improbable nautical strokes of luck ever, Lance and friends spotted Craig, who after 5.5 hours was still alive. But just barely. McCabe's body core temperature was down to 90 degrees and he was relatively incoherent. He was rushed to the hospital to be treated for hypothermia, but has fully recovered. In fact, today he's taking a CNN film crew out for a reenactment, now that the holes in Heather's bottom have been repaired.
The experience has literally given our friend religion. Craig subsequently announced that he's giving up vanity and material things - such as his boat - and will once again become an advocate for abused children. We'll have more in the February issue of Latitude 38.