Wild Racing at Acura Key West Race Week
January 18 - Key West, FL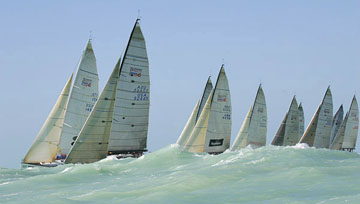 As you can see from the photographs by Tim Wilkes, official race photographer, the wind was in the 20s and the seas were up yesterday at Key West, where 286 boats from 14 countries have gathered to battle it out in nine classes.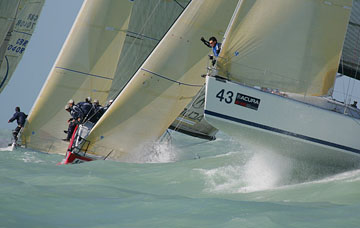 So far Rick Wesslund's J/120 El Ocaso from Tiburon is leading PHRF III, with two bullets in the last two races. Also doing great is Thomas Coates' San Francisco-based J/105 Masquerade. Having put in two bullets in four races, they have a comfortable lead in their class.
We're not sure what happened to Charles Ray's new Wyliecat 44 C-Squared, which is being sailed by a lot of "old hippies" from Northern California, as she didn't start either of the last two races.
Kristen Lane's San Francisco-based Mumm 30 2 Th' Max is in 6th place in that class.
The three Team Pegasus Melges 24s from Santa Cruz / Tiburon / Honolulu / Newport Beach and who knows where else, are in third, fifth, and tenth, with Dave Ullman, Jeff Madrigali, and Philippe Kahn, respectively, driving the different boats. Other Northern Californians in the Melges 24 class are Kevin Clark's Alameda-based Smokin' in 21st, Matt Frymier's USA 493 from Tiburon in 22nd; Dan Hauserman's Personal Puff from Tahoe in 23rd, Nigel Donnelly's Lester Nightfly from San Francisco in 24th, Stan Eriksson's Pro Spirit from Tahoe City in 38th, and Thomas Klenke's Nothing Venturd from Lake Tahoe in 47th.
Caleb Everett's San Francisco-based Valiente is 15th in the J/80 class.
The winds are blowing in the 20s today, which means that the Melges 32 class will not be racing.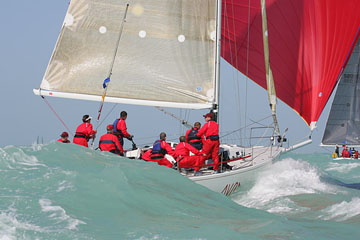 Photos Tim Wilkes