It Sort Of Looks Like It Came From Outer Space
January 16 - St. Barth, F.W.I.
But it's actually the new port captain's facility at St. Barth, F.W.I. It's not your basic harbor administration look, is it? But everybody seems to approve of the new 'frisbee' roof, which is apparently made of a "boat-like" composite.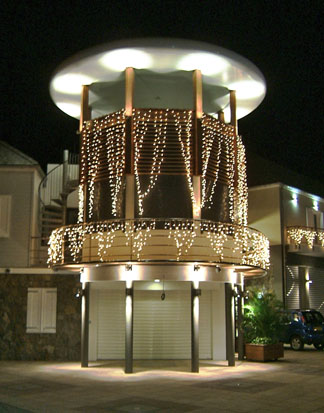 The second shot is from the upper part of the tower looking down on 'Ticonderoga corner' of the Charles de Gualle Quay and out to the Gustavia anchorage. Check out the attractive new hardscape on the quay. Pretty stylish.
As much as we enjoyed our recent time in St. Barth, we're back home now, and thrilled to be back in our flooded out Mill Valley editorial offices. Just thrilled.

St. Barth is obviously doing very well, thank you, but you have to wonder why. After all, for much of the last century the locals were nearly starving to death because it has no agricultural land and little water. Many residents had to leave the island to get jobs to feed their families. And it's not like St. Barth is near the top of the list in the Caribbean when it comes to great natural harbors. Nearby St. Martin, for example, is much more blessed.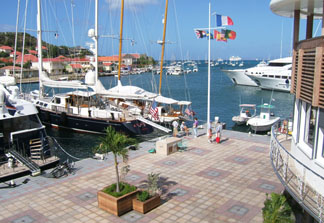 Photos Latitude/Richard
We think the reason St. Barth has done so well over the last 30 years is the people. Collectively, the local population kept the island clean and safe, even in the hard times. And as tourism evolved, they've managed it wisely. Rather than grab quick bucks by allowing gaudy hotels and ugly condo projects, they insisted on smaller high-quality places. Plus, the island residents treated visitors nicely, and didn't rob or mug them. As a result, the island is reaping huge rewards.

The other islands of the Caribbean have a lot to learn from the success of St. Barth, above all, the importance of treating visitors nicely and not mugging them. We wish them all success and prosperity.