Photos of the Day
January 6 - St. Barth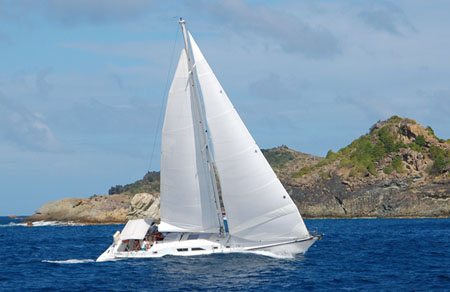 Warren Stryker's St. Thomas-based Hunter 54 sailing to weather.
Today's Photo of the Day is of former Sausalito resident Warren Stryker's new-to-him Hunter 54 sailing off little St. Barth in the French West Indies. Lovely, isn't it? Alas, our good friend has since had to return to his home in St. Thomas so that his son John-Phillipe could resume school.
This is the time of year for the 'Christmas winds' or 'reinforced trades' in the Caribbean, when it's not uncommon for it to blow 20 knots out of the east for weeks on end. But right now, it's as calm as it can be. It must have something to do with Tropical Storm Zeta, which obviously can't read a calendar, as it's messing with the Atlantic weather patterns in January, for God's sake.
One of the great entertainments on St. Barth is watching the planes try to land on the miniscule runway.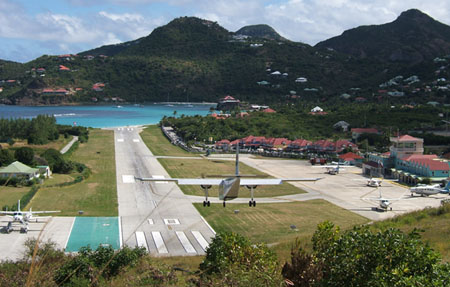 When the normal trades are blowing, planes try to land in this direction. Usually there is no problem, but sometimes they continue on into Baie St. Jean.
It's a challenge, as the pilots have to thread a gap in a ridge, then dive like crazy and stop - before they run off the runway and into Baie St. Jean. Last year over 160,000 people survived such landings, all of them in appropriately tiny planes. But there have been minor accidents, with planes ending up in the water, landing on cars, and that sort of stuff.
The landings are easiest when the trades are blowing like stink. When the winds go light, as they've been the last couple of days, the planes have to land coming in over the water. They get one shot at such landings, because there's a large hill at the other end of the runway. Pilots tell us the landings are even more difficult because they are easily distracted by all the topless women sunbathing at La Plage right next to the runway.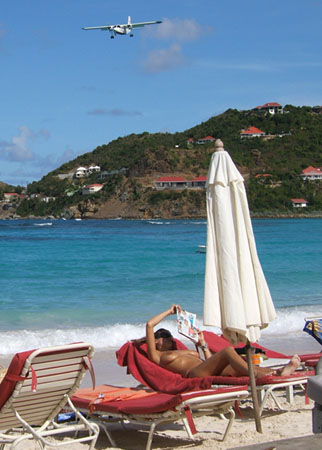 "Pilot to tower, pilot to tower, tell those women to put their clothes back on, my glasses are steaming up and I can't see the runway!"
Reader Charlie Eckstrom, who like everyone else in Napa has been trying to dry out from the floods, asked if we had any photos of planes landing. We took the accompanying one yesterday, where the pilot forced a couple on the beach to eat sand lest they get caught up in the landing gear. The pilot probably had a good laugh because the people really scatter when they are about to be hit by a plane.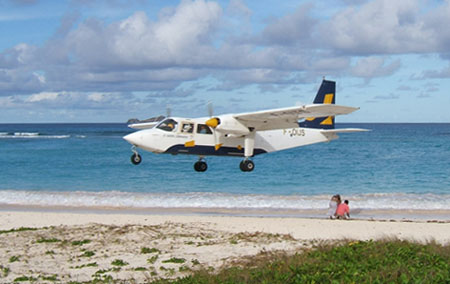 It took a week for Pierre and Marie to get the sand out of their teeth after they had hit the beach to avoid being struck by the plane.
Old sailing friends Jeff and Kitty from the Chicago area arrived late yesterday afternoon to report they've bought a Moorings 47 catamaran to be put in charter service out of nearby St. Martin. In fact, their boat was to arrive from South Africa yesterday, and will go on her first charter starting January 15. We're hoping to check her out before she starts work. She's apparently the only U.S. owned Moorings charterboat out of St. Martin, because Americans don't want to pay the 10% VAT.
Catamarans are ever more popular in this part of the cruising world. While at the Colombie anchorage the other day, one-third of the boats were cats.
A number of years ago we met an interesting investment banker from New York named Josh. "I tried to take West Marine public, but founder Randy Repass was so smart he did it himself," he told us. Back then Josh owned the Privilege 51 cat Best Revenge, which he'd bought from none other than Dennis Conner. Josh has since moved up to a customized Privilege 60 called Best Revenge V. She's a beauty, and built for comfort. The women guests apparently love the fact that the showers all have about eight nozzles. It's more like a bloody spa than the cruising boats of old. There must be a big market for this kind of stuff, as she goes out for $24,000 a week and is fully booked!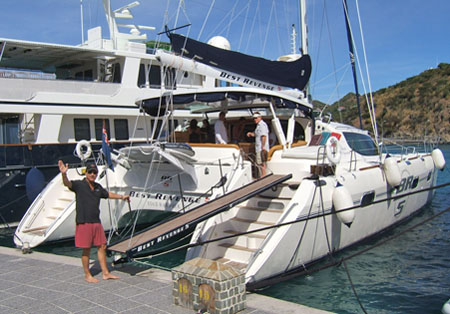 Josh presents Best Revenge V.
One of the great things about visiting a place like St. Barth is that you get to meet some very interesting people. For example, while on Best Revenge, Doña had a chat with an Aussie beauty named Tania, who is about to begin a career in finance on Wall Street. After Tania described the relative successes of private retirement accounts in Australia, she told Doña the reason middle-aged men in Australia have such huge beer guts is because they drank ice-cold beer when they were young. "It expands their organs," she explained.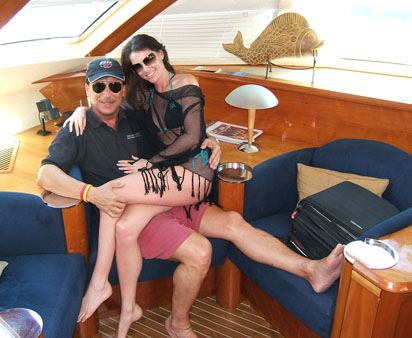 Josh and Tania in the custom salon seats of Best Revenge V.
Not only did that make a lot of sense to the Wanderer, but it gave him a great idea. After all, 2006 is to be the year of superficiality, and what's more superficial than having a huge 'package'? So while at dinner at a restaurant that night, the Wanderer swiped an ice-filled champagne bucket, ducked into the toilet, and dipped selected organs he wanted to expand into the ice water. We hope Tania knows more about finance than biology, because based on the Wanderer's experience, her cold organs theory is all wet. Yes, after about one minute, the Wanderer's package looked like a toothpick and a couple of capers rather than something that would set female hearts aflame.
And don't think St. Barth doesn't have its share of folks from Northern California - such as Julian Chatneuff of Orinda. Until recently, he owned Ace Amusements of San Francisco, which was all about pinball, jukebox, and video machines. Julian has taken a place for three years on the island, and only leaves when required to by work. What's he do for work? He provides and sets up the snooker table for the Rolling Stones while they are on tour. In fact, he just had to leave the island yesterday to get back to work.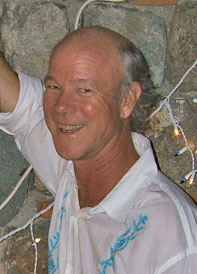 Start Julian up and he never stops.
About this time, the local papers come out with a list of who was here over the holidays. Celebrity-wise, it was an off year. Microsoft co-founders Bill Gates and Paul Allen, Mike Tyson, Mariah Carey, some sons of Libya's dictator Khadafi, and riff-raff like that. Personally, we're more interested in meeting guys like Yan, a Frenchman in his early 30s who works at the local sailboard rental place, and who told us he's sailed around the world three time. When we saw him the next day, he did a George Washington. "I was not telling the truth," he said, "I have only been around 2.5 times." Such is life when the trades don't blow hard.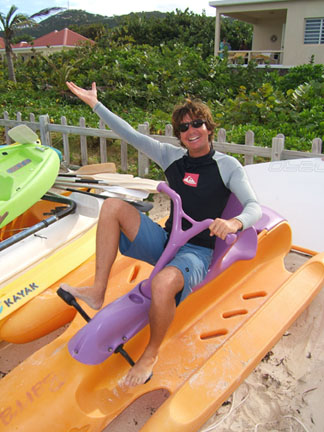 'I cannot tell a lie' Yani has sailed around the world just under three times.
Photos Latitude/Richard