Photos of the Day
January 4 - St. Barth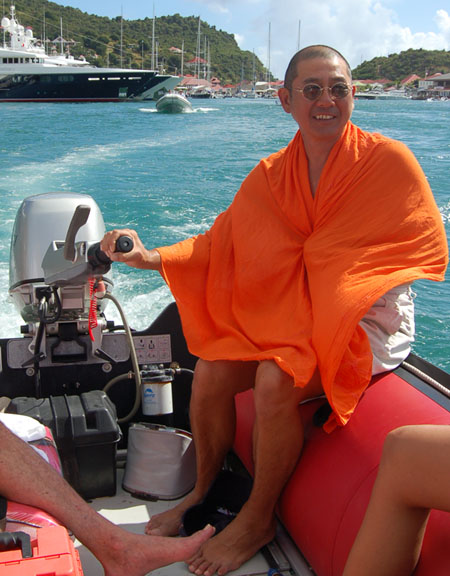 Having attained enlightenment, the Dalai Lama, which means 'Ocean of Wisdom', has decided to spend more time on the water.
Today's Photo of the Day is of our friend the Dollie Lama driving his dinghy out the harbor at Gustavia, St. Barth, back to the Gunboat 62 catamaran he is running for a couple of nice fellas who own a string of pubs in Ireland. "I still like Tibet and all that stuff," says Capt. Lama, "but if I'm going to live in exile and be a Bodhisattva rather than step off the wheel, I can't think of a better place to do it than St. Barth. The sailing is great, the water is warm and blue, and geez, did you see those girls on the beach yesterday? Just looking at them made me feel as though as wave of compassion had broken over me."
Capt. Lama admits that he's 'gone over to the dark side'. "When Melissa and I sailed around the world on our Beneteau 51, it was great. And running a 115-ft monohull was fine, too. But while kicking around South Africa last year, Peter Johnstone hooked me up for a crew position on a delivery to the Caribbean aboard one of his Gunboat 48 cats. That Peter is not the normal boatbuilder, as he sea trials all his Gunboat cats by getting them to fly a hull. Anyway, I attained catamaran enlightenment on that trip from South Africa to the Caribbean, and the next thing I knew, it was December 15, and Melissa and I were shoveling snow off a Gunboat 62 in order to take her south to the Caribbean. We'd never sailed the boat before, of course, and a couple of days later it was gusting to 45, there were 20-ft seas, and we were sailing down waves at 24 knots under much reduced sail. I was so scared that I had to keep changing my saffron robes."
The Dollie Lama was one of about 200 sailors who competed aboard 30 boats in the 22-mile Around the Island (Race) Parade on New Year's Eve.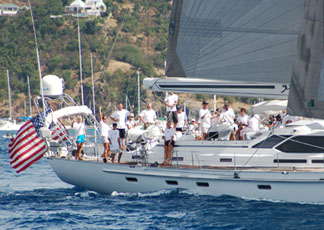 Many of the boats, such as the Dubois 122 Midnight, were packed with crew.
While a lot of the regular boats were elsewhere in the world and couldn't make it to St. Barth, there was still a fine fleet of 30 boats, including everything from a Melges 24 to the seven boats in Class A that averaged well over 100 feet in length. Even the 247-ft Mirabella V, with her nearly 300-ft tall mast, was going to make an appearance before the winds turned out to be too gusty.

Everything is bigger at St. Barth. This is a 135-ft ketch sailing by a 350-ft motoryacht financed by profits from Victoria's Secret underwear.
It was classic around the island conditions. A shifty beat in flat water, a breezy beat against the tradewind seas, a downwind run between a series of small islands, and a smooth water beat back to the finish. The weather varied between bright sunshine and rainy squalls. We sailed aboard Mike Slade's R/P 92 Leopard of London, which was under charter to a jolly family from jolly old England. Aussie Chris Sherlock runs Leopard, and you've never seen a harder working captain.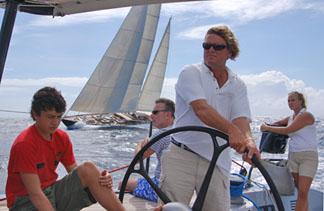 Chris Sherlock at the helm of Leopard of London
It's not just that it was his 41st consecutive day on charter, and he was booked for weeks to come, it's all the responsibility. After all, we're talking a boat that has loads of 22 tons on the runners! While making sure all the guests were enjoying themselves, Chris was supervising his crew, supervising untested pick-up crew such as ourselves, driving, tending the asymmetrical sheet, and giving advice to one of the crew on how to check the impeller on the generator so we don't run out of electricity to run the much-needed power winches. Talk about shouldering a load - and still having a sense of humor.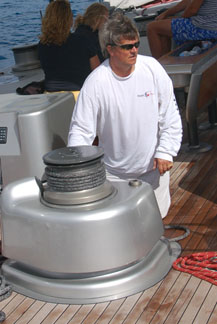 Danny Nystrom, formerly of Los Gatos and currently of Newport, RI, working the powerful mainsheet on Leopard
Leopard was the eighth boat to finish the rabbit start race, corrected out second in class, but won the most prestigious trophy, which was for the fastest elapsed time. The charter guests were tickled pink during the awards ceremony on the Charles de Gaulle Quay. "This yacht racing stuff is easy," they laughed, "you just charter a good boat, sit back and enjoy the ride, and pick up the trophy when it's over."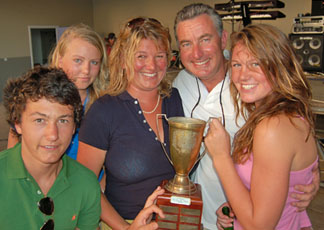 "We won?! You must be joking," say the charterers of Leopard.
The corrected-time winner was Carrera, a Wally 77, that will be punished for her victory come handicapping time next year.
The Around the Island Parade is one of our favorite events, as you get to see great yachts in their element. The 135-ft Victoria of Strathern was a thing of beauty pounding into the trades, cascades of spray flying from her bow. And only a stone could have been unmoved by the sight of Elenora, a 150-ft gaff schooner gliding along under full sail. "I wouldn't want to sail that boat or maintain her," said Sherlock, "but I sure love looking at her. What a beauty!"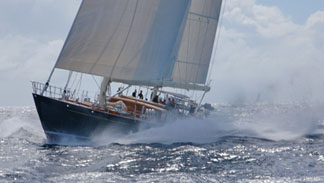 Victoria of Strathern kicking up some spray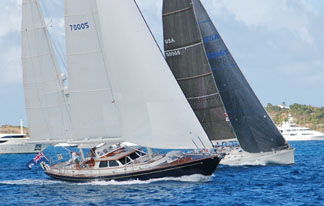 The Hinckley 70 Muse battles with the 65-ft Mischievous near the finish.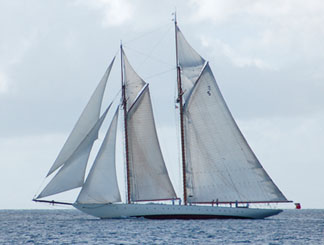 The 150-ft gaff schooner Elenora glides toward the finish in stately fashion.
After the New Year's Eve race, of course, came the New Year's celebration on the dock and around the harbor. If you weren't here, don't fret, as it wasn't an epic year. It was fun with lots of great people, but it wasn't a year of wild partying with the fireworks setting the hills on fire and other fun stuff like that. Having experienced the big build up to the New Year's Eve crescendo, it was nice to see by early the next morning probably half of the fleet of mega yachts, mostly powerboats, had taken off. The island was getting quiet again, and that was just fine with us.
Is it possible to build too big a boat? That was one of the questions that got kicked around over the holiday, and was brought on by the rumors that Larry Ellison had put his 450-ft largest-in-the-world motoryacht Rising Sun up for sale, and that Mirabella, the largest sloop in the world, was also available. Both boats are just a little more than a year old. According to the coconut telegraph, the problem with Ellison's Rising Sun is that she's so damn big he couldn't comfortably get her into the America's Cup harbors such as Trapani and Valencia. And when there's a sea running, it's not easy to get off and on such boats. So yes, even the ultra rich have their problems.
Speaking of not quite so big boats, Sherlock told us that Mike Slade is going ahead with a new 30-meter (98-ft) all out race boat to do battle with the new Alpha Romeo and Wild Oats. While the owner and skipper were very happy with the builder, Green Marine, the designers, Reichel/Pugh, and mast builders Southern Spar, of the old boat, they are going with an all new team just for fun. All that we're allowed to report is that the new boat will be designed by Farr, will be very different in concept from Alpha Romeo and Wild Oats, and is expected to be completed by January of '07. That means the old Leopard of London is now available. Her asking price is three million British pounds, with some flexibility, but comes with one million pounds in guaranteed charters to be skippered by Sherlock. Most of you probably aren't in the market for a yacht like that, but she's a darn fast boat with a very nice interior.
Of course, not everything is wonderful in the world of yachts. For example, Cristina, who grew up in Sausalito, is miffed. She moved to New York in '92, did the French Culinary Institute thing, then did an internship in France, and worked for various restaurants in California and New York. In July of '95, she took a vacation in Anguilla, fell in love with the Caribbean, and called her old school to get her a job on a yacht. Be careful what you ask for. They got her a job, but the reality of being a cook on a yacht didn't match her preconceived notions. Something about never getting any days off and being told parties of 40 would be having lunch the next day. Ah, working on yachts, it only sounds like the easy life.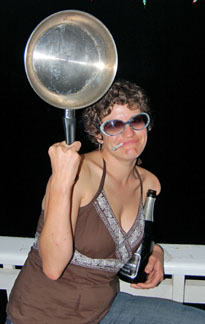 Cristina, having had enough of cooking on one yacht, gives the 'frying plan salute'.
We'll tell you who seems to be having an easy life, Giuliano Darbe and Lisa Featherstone of the San Francisco-based Challenger 40 Serenity. Twice they've sailed from San Francisco to St. Barth via the Canal, and for the second time they are loving life anchored off Gustavia. A more well-rested couple we haven't seen.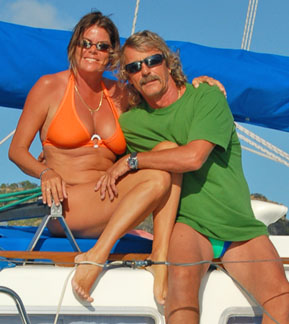 Giulano and Lisa, enjoying the Caribbean sun aboard Serenity.
Photos Latitude/Richard