Photos of the Day
December 30 - St. Barth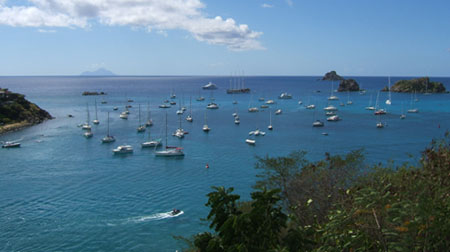 Looking out at the Gustavia anchorage with Saba in the background. It's clear as a bell, which means the Christmas Trades haven't kicked in.
We're in heaven. Each year we make a New Year's pilgrimage to the 3x7-mile island of St. Barth in the French West Indies. It's as much a fixture of our lives at the end of the calendar year as the Baja Ha-Ha is in early November, and equally as fun.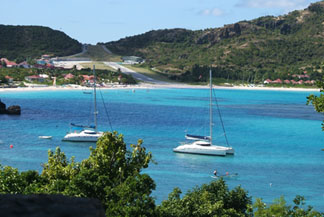 A couple of cats anchored off the Eden Rock Hotel, not far from the end of the St. Barth International Airport runway. The water is not just clear and blue, it's warm.
The main reason we come to St. Barth is because it's where the world's biggest sailing - and motor - yachts tend to gather for the holidays and for the 22-mile Around the Island Race. This means it also attracts some of the great sailors and characters of sailing. So yes Mr. I.R.S., we're working, not playing.
We also return to St. Barth because it inadvertently became our Caribbean 'home' about 20 years ago. That's because we bought Big O, our Ocean 71 ketch, here in 1985, and kept her in the area for about 10 years as a charter boat. While in St. Barth, we fell in with a bad element. Guys like Antonio des Mortes, the Caribbean terrorist, and D. Randy West, our catamaran guru. You can only imagine the situations that led to.
We also return to St. Barth because it is, in our opinion, the best island in the Caribbean. After all, it's gorgeous, there's no violent crime, the beaches and anchorages are spectacular, and it's crawling with knock-out women who eschew tops on the beach. Normally we wouldn't have mentioned the latter, but our primary resolution for the upcoming year is to become a more superficial person, and we want to get in practice.
In an ever-changing world, it's nice to be able to count on things, and one of the few things we can count on is that at this time of year, Scott Franz's legendary Herreshoff 72 ketch Ticonderoga will be tied at the end of Charles de Gaulle Quay under the command of Capt. Tom Reharden. A precise skipper who balances the ship's books to the penny on the last day of the month, Reharden admonished us for our lack of punctuality. "I expect you here by 5 p.m. on the 44th of every year, and you're already more than two hours late."
Once aboard Ticonderoga, beers were opened and we were brought up to speed on the sailing news of the East Coast and the Caribbean. First, the summer in Maine had featured fabulous weather, and Ti's trip down from Newport to Antigua had been excellent. In boat news, the Saudi-owned S&S 135 Syriah had finally been sold. Capt Tim had scored the commission - the asking price had been $9 million - and was running the boat for the new owners. With Dennis Kozlowski having been sentenced to eight years in prison, the J Class 135-ft Endeavour had gone on the market. There had apparently been offers, but nobody knew if she'd been sold. It goes on and on like that, and if you have a history with the boats and personalities, it's very interesting.
It's surprising how many West Coast sailors eventually find themselves on St. Barth. We were walking in front of the Hotel de Ville, which is the town hall, not a place to get a room, when somebody called out our name. It turned out to be Donny Anderson of San Diego, whom we knew from sailing on Bill Clute's San Francisco YC-based Peterson 41 High Noon with the likes of Tom Blackaller and Jimmy Pugh - in the late '70s. "Back then Jimmy [now half of the Reichel/Pugh design juggernaut] had to have a green card," laughed Anderson. Donny later drove Raul Gardini's spectator boat during the Italian's attempts at the America's Cup in San Diego, and reported that he now operates the middle-sized motoryacht for a wealthy guy. "You know, Sag Harbor in the summer, Caribbean in the winter."
There was something off about Anderson, however. People were coming on and off the boat, and he wasn't in uniform or being particularly deferential to them. What was up with that?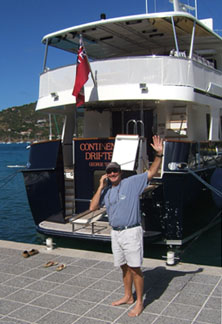 San Diego's Donny Anderson. Where's his captain's duds?
We later met up with Warren Stryker, whom we knew from owning the Bounty II Dulcinea in Sausalito Yacht Harbor way back in the early '70s. Based on his owning his boat, we bought our Bounty II, on which we later founded Latitude 38. In the early '80s, Stryker sailed that boat to the Virgin Islands and has lived on St. Thomas ever since. Having owned the Sausalito-built Bounty for 35 years, he just sold her. "The buyer was the skipper of a megayacht in Antigua who wanted to race her in the rough waters there. The funny thing is that I sold her for more money than I paid for my new boat, a Hunter 54." Stryker had come to St. Barth because . . . well, because we come here and we're old friends.
We'd had an inkling that Jimmy Buffett, who has close ties to the island going back 30 years, was around. When we picked up our rental car at Budget, there had been a Magic Marker list of names of people with reservations. It wasn't a long list, but in addition to our name were those of Jimmy Buffet, Ivana Trump, and Prince. When Doña suggested that the list was a joke, the guy behind the counter said it wasn't. "You can see Jimmy's seaplane on the other side of the runway, and Ivana gets a car from us every year. When I delivered Prince's car to the Eden Rock Hotel, I was expecting the black rock 'n roll star, but he was some other Prince." Such is life on the little island of 6,000.
Anyway, later that night, we were cruising the waterfront, and decided to have a drink at La Bete A Z'Ails. We heard music as we edged into the bar that's about the size of the front indoor area of Sam's Anchor Cafe in Tiburon, and as we got there, we could see that Jimmy B was indeed standing in with the band. He'd apparently been singing for nearly three hours, and was cruising through some Bob Dylan material. As you can imagine, a good time was being had by all.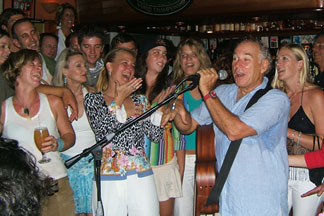 Jimmy B. singing up a storm before a small but adoring crowd.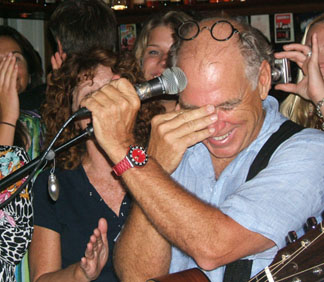 Lyrics you wrote 30 years ago can be a little embarrassing later in life. ". . . I go for younger women, lived with several a while . . ."
After he finished playing, Buffett stood around for about 40 minutes happily talking to anyone and everyone. Just a regular guy. We didn't talk to him because we're not into bothering people without a good reason, but during that time we learned that it is Buffett's boat that Donny Anderson is running. Jimmy likes things casual, which would explain Anderson not being in uniform or uptight.
Uncharacteristically, we encouraged our group to continue on at the 'Yacht Club', which is really just a bar with people packed in tighter than in a Tokyo subway car and the music louder than the launch of the space shuttle. It was complete mayhem, and even the biggest ice princesses were drenched in sweat. At some point Doña said she was heading to the toilet. We knew that would be the last we'd see of her for about an hour.
Indeed, it was about an hour later, after we'd battled through the crowd a couple of times, that we once again found Doña. When we asked where she'd been, she explained that there had been a big line to take a pee, and in any event, she'd been in the toilet for the last 15 minutes with Jimmy B conducting, or at least attempting to conduct, an interview for Latitude. She had absolutely nothing to show for her efforts but a big grin.
So things are progressing nicely down here, heading for the New Year's crescendo. The next day Mark, skipper of Mischievious, saw us walking and told us to hop in his car. "Chris wants you to sail with him in the Around the Island race, are you interested?" he asked. Chris is Chris Sherlock, skipper of Mike Slade's London-based Leopard of London, an R/P 92 that up until a couple of years ago was the fastest yacht in the world. Of course we'd want to be part of the crew.
How does someone such as ourself get asked to crew on a boat like Leopard of London? Not because of our sailing skills or good looks, we can assure you. No, it was because we'd gotten to know Chris two years ago in St. Barth. This was because Doña, then watching over the anchored out Profligate, would babysit Leopard of London while Chris took his charter guests ashore for a high time. Like they say, being there is 90% of success. Or something like that.
Also on hand is Cheryl DuBois, a lovely and feminine woman from Hollywood. Years ago she used to run a charter cat in the St. Barth area, and had had many wild adventures. So naturally she wrote a book, had it published, and is on a book tour. She says the book has been optioned for a movie, so good on her. The big question we had for her was how such a fair-skinned person could sail in the tropics every day for years and not end up with wrinkled, leathery skin. Alas, we'd had a couple of rum and tonics, and our dulled mind never got around to asking questions. We'll try to do better in the upcoming days.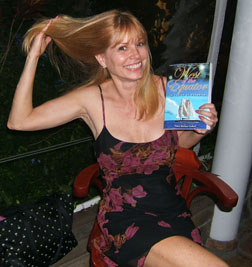 The lovely Cheryl DuBois, author of West of the Equator, In Search of Paradise. We conned her into posing this way.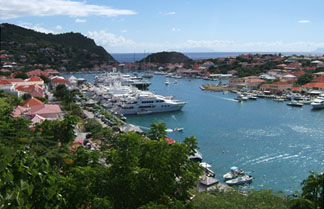 Every space in the inner harbor has been taken for weeks. It's first come, first served, so most of these boats have been in port since the first week of December. They can leave, but if they are not back by 5 p.m. each night, they forfeit their coveted spot. The boats over 190 feet - and there are a bunch of them - have to anchor outside.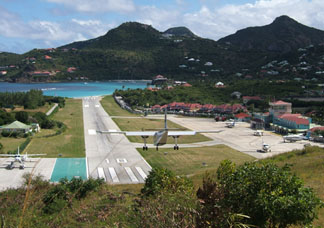 With two more days to New Year's, plane loads of tiny planes continue to land one after another. As soon as New Year's is over, the frenzy subsides, and St. Barth returns to be a relatively quiet little island.
Photos Latitude/Richard