Photo of the Day
December 19 - Trinidad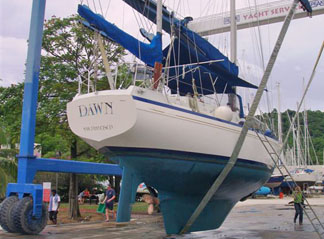 Photo Courtesy the Stones
Today's Photo of the Day comes from Dawn Stone, who, along with her husband Jeff - who ran a marine refrigeration service - used to live aboard in Sausalito. They subsequently cruised Mexico, the South Pacific, and the Caribbean, before settling down in Trinidad and opening up another marine refrigeration service.
"In 1987, my Christmas present from Jeff was to find our 1978 Nicholson 39 in our slip - with my name beautifully air brushed on the transom. Kelly McCall was the artist. The accompanying photo shows Dawn 18 years later in Trinidad, being hauled for a survey - and my name still on the transom and still looking beautiful after all these years. I don't know where Kelly McCall is but he did a hell of a job!
"Last week Dawn departed Trinidad under command of her new owner. Jeff and I are wrapping up in Trinidad, and will return to the U.S. to live on the Big Island as soon as we sell our marine refrigeration business. Hopefully it will be easier to get a copy of Latitude 38 there."
We're sorry to see Dawn go, as we remember seeing the Stones aboard her in various ports around the world. A particularly memorable time was at Cook's Bay, Moorea. But Jeff and Dawn, are you sure you want to move to the Big Island? While in Mexico in early December, we met a couple who had just sold their Big Island sailing charter business and were looking to relocate in Mexico. Why? First, the cost of living is so high in Hawaii. Second, horrible traffic. Traffic on the Big Island? They claim all the working class people with jobs in Kona have to commute two to three hours a day because they've been priced out of nearby homes. We'll expect a report when you get there.