Newport 30 Sea Ya, Lost at Entrance to La Paz
November 30 - La Paz, BCS
Sometimes tragedy strikes when you least expect it. Such was the case late Sunday night when Alex Heller's Long Beach-based Newport 30 Sea Ya was destroyed at La Paz - after enduring a very rough trip north from Cabo.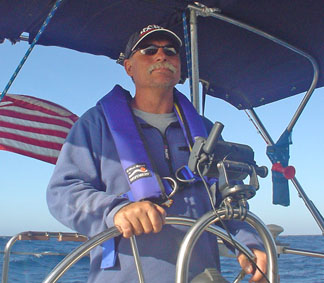 Skipper Alex Heller in happier times.
According to Heller, he and crewman Tom Church had clocked winds as high as 47 knots and seas as high as 12 feet during the trip to La Paz from the Los Muertos anchorage. "By 1730, winds dropped and I was able to run through the La Paz channel," he reported. Having been on the helm for nine hours, Heller then gave the wheel to Church, who apparently veered into the shallow water of the area's fringing reef. Sea Ya was soon hard aground. After the tide rose in the early morning hours, Sea Ya eventually floated free, but her keel and rudder had been badly damaged. Before they could secure her the keel broke off, flooding the hull, and the boat ended up grounded in two feet of water.
Although Heller and Church were unharmed, the potential for resurrecting Sea Ya is doubtful. However, the local cruiser community mounted a massive effort to salvage as much of her gear and equipment as possible. The boat was uninsured. "It took two weeks to get here," said Heller, "and I may be staying longer than expected."

Looking dapper on the docks of Cabo, Alex and Tom had a great trip south with the Baja Ha-Ha fleet.
Photos Courtesy Sea Ya