Mazatlan Is Getting the Magic
November 28 - Mazatlan, Mexico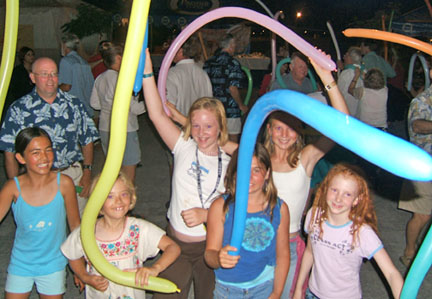 The 'cruising kid' girls at the Marina Mazatlan Thanksgiving Party.
Along with about 110 others, the Wanderer and Doña de Mallorca celebrated Thanksgiving at the traditional Marina Mazatlan Cruisers' Thanksgiving Party. It was a complete blast for the usual reason - cruisers are such a great group of people. It was the typically diverse crowd who, thanks to their common interest in cruising, got on like a house on fire. Of course, it didn't hurt that Antonio Cevallos and his staff did such a great job of organizing the party - and hiring the right big band. In fact, it wasn't until the dinner was over and the people started dancing that the fun really began. And it went on for hours in the warm evening. Warning: If there were a dance contest among marina staffs, we'd put on our money on Marina Mazatlan's former harbormaster, the much-loved Antonio Cevallos and Sylvia, the much-loved office manager.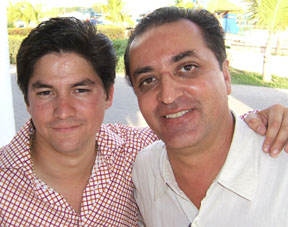 Mazatlan Marina Manager Jorge, and Marina Mazatlan Project Manager, Antonio Cevallos.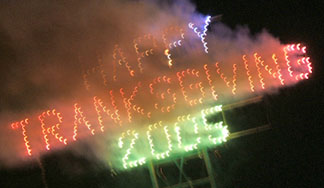 The spelling might not have been perfect, but the fireworks at the Marina Mazatlan Thanksgiving Dinner Party were surprisingly good.
In addition to the 110 or so cruisers who enjoyed the turkey dinner, dancing, and festivities, scores more dropped by later, lured by the sound of the sensational band and the surprisingly good fireworks. Some of the cruisers had just completed the Baja Ha-Ha, and only arrived from Baja that day. They included those on the Ericson 38 Murray Grey, the Morgan 38 Interlude, the Liberty 458 Charissa, and the Beneteau 45f5 Ohana.
Also in this group was non-Ha-Ha Vicky Platt and her Hans Christian 38 Inspiration at Sea. She and her boat were to join Pat Henry's sailing school for women in Banderas Bay. Alas, after sailing all the way down from Vancouver, including all the way to Ensenada with an all-women crew, Inspiration at Sea was dismasted off Los Frailes in southeastern Baja. And it wasn't as if Platt hadn't been doing enough good deeds, as she gave up one of her crewmembers in Ensenada to the Hans Christian 33 Pegasus, which she ended up shepherding and then towing a considerable distance. Others report that Pegasus, having been towed almost all the way up to Los Frailes, headed back to Cabo, ran out of wind, and got on the radio and demanded another tow. Some even reported that the owner "abandoned" the boat in Cabo, but we don't know if that's true.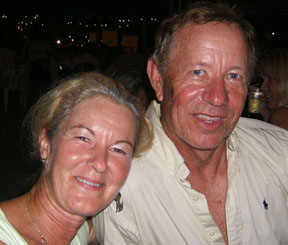 Vicky Platt, owner of the dismasted HC 38 Inspiration at Sea, still managed to smile. Next to Vicky is Paul, who became a pinch hit crew from Ensenada south.
A bunch of the folks at the Thanksgiving get-together in Mazatlan had done the Ha-Ha the year before - such as Teal and Linh Goben of the Williams 41 trimaran Savannah. They raved about what a great time they'd had cruising Mexico last year, including the summer in the Sea of Cortez. Linh, who was finally talked out of carrying her 150 pairs of dress shoes on the tri, is eager to try surfing down at Punta Mita. She's going to need a short, short board, as she can't weigh much more than 90 pounds - if that.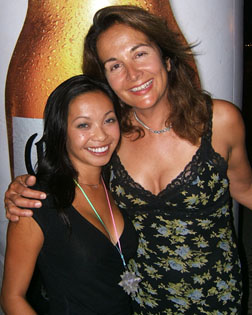 Linh Goben of the trimaran Savannah and Doña de Mallorca discuss shoe and other 'girlie stuff' storage on cruising boats.
A couple who had never done the Ha-Ha - or even ever had their boat to her homeport of San Diego - are Larry Hirsch and Dorothy Taylor of the Hylas 47 Shayna. They bought their boat eight years ago when he was 68 and she was 70, and sailed her across the Atlantic as their shakedown cruise. They've been cruising all over the place about six months a year ever since, and don't have any intention of slowing down. They plan to head up into the Sea this summer. For a couple who have passed their mid-70s, they are living life to the fullest, as evidenced by their fun on the dance floor.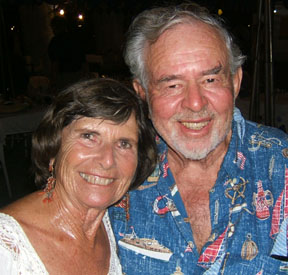 Dorothy and Larry, our heroes, aren't done cruising yet.
Mazatlan is a very interesting place for cruisers, as it's an authentic Mexican city as opposed to a tourist city. And for mariners, there are major changes on the horizon, centered around the Marina Mazatlan development.
There are really three areas for cruisers. The first is the anchorage in the old main harbor, which hasn't changed a bit - or seemingly seen any maintenance - since we first sailed in there in the late '70s. And when the wind is wrong, the sewage plant across the street really makes it stink. But it's just $3 day to use the dinghy dock and showers and such, and only about $140/month to Med-tie to the docks. Some cruisers still love it, and it is close to the old town.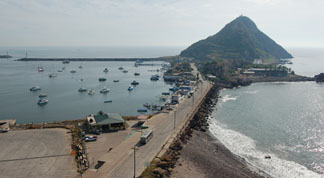 The Old Harbor at Mazatlan is to the left. If you want to hear the morning net, you have to climb 450 feet to the summit to pick it up for the marina in the north of town.

The second area is the El Cid Marina to the north of town, which has been run by yet another much-liked harbormaster, Geronimo Cevallos - cousin of Antonio Cevallos at Marina Mazatlan - who has been in charge for all 14 years it's been open. Except now, Geronimo is also in charge of developing the great big new marina El Cid is building near Cancun. The El Cid Marina in Mazatlan only has 70 berths, and many of them were filled by Ha-Ha boats. El Cid has everything a cruiser could want in a resort cruising facility, including some great swimming pools and oceanfront.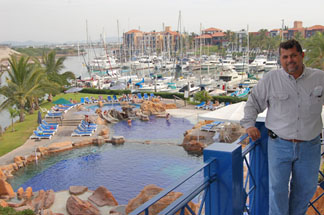 One of the pools and some of the marina at El Cid Marina, which has it all. Harbormaster Geronimo Cevallos is to the right.

While at El Cid, we bumped into former San Franciscans Phillip and Jana Graves, who have basically kept their ferro ketch Seamint at El Cid for 10 years. "We love the city of Mazatlan, we love the El Cid, we love the way Geronimo takes care of everyone's problems, and we love the wonderful people of Mazatlan," they said. The couple say they're having a fine life on about $1,000/month, and also have an RV and car in Mazatlan.
Where things are really changing, however, is at Marina Mazatlan, which has always been both a long way up the channel from El Cid, and the most barren marina imaginable. It's inexplicable to us, but even after nine years, the place still didn't have a store, a restaurant, a swimming pool, or even reasonably nice facilities for cruisers. Most of that can be blamed on the fact that the marina was part of Grupo Sidek for many years and in limbo. But those shortcomings are going to be eliminated any day now. The marina and all the surrounding land was purchased by a wealthy tomato grower from Culiacan, who is really developing the place. A six-story sold-out condo project - the first of many - is almost completed next to the marina, another sold-out six-story condo tower is halfway done, and a third is just starting construction. This is just the beginning of massive home and condo construction in the general area.
In addition, Marina Mazatlan tenants are soon to get their cruisers' lounge, the pool is already built, a grocery store may have opened this week, and a big restaurant is planned. In addition, a huge shopping center is about to be built nearby. And the adjacent El Cid property is being developed. The bottom line is that the marina area to the north of Mazatlan is undergoing massive, massive development.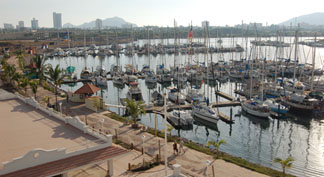 Just one part of Marina Mazatlan, as seen from one of the almost completed condo towers. Marina Mazatlan is set to expand dramatically, both in terms of homes and condos, as well as boats slips - and most importantly, cruiser amenities.

Marina Mazatlan is currently home to 215 berths, and is about 80% occupied. But with the realization that berths on mainland Mexico are in such short supply, another 100 will be built. They also have capacity for nearly 500 more slips. It's going to be years, but when it's all done, Marina Mazatlan will probably be the biggest in Mexico. In addition, they will be developing a dry storage and haulout yard for 200 boats to 55 feet. This will put them in direct competition with Marina Seca.
Like we say, marina development in Mazatlan is on the move.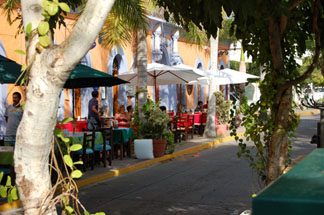 Old Town Mazatlan street scene
Photos Latitude/Richard