Tale of Two Midwinters
November 14 - San Francisco Bay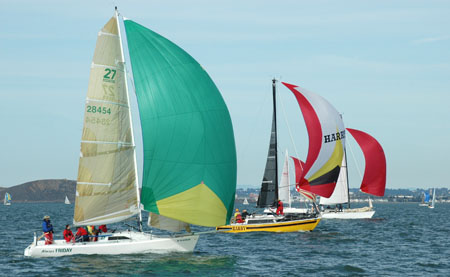 Berkeley YC kicked off their midwinter series in fine style over the weekend. Consistent 8-10 knot breezes on Saturday propelled 85 boats in four PHRF and seven one-design divisions around an 8.8-mile circuit of the Berkeley Circle. Sunday was more or less a repeat weatherwise, with only 39 boats in five divisions attending. Both days were moderate temperature-wise, with hazy autumn sunshine.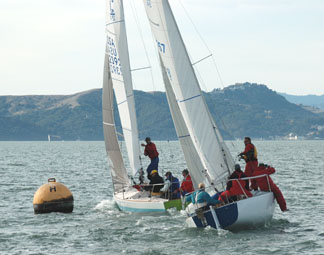 A pair of J/24s round the windward mark.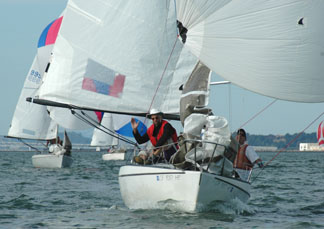 Moore 24s on the run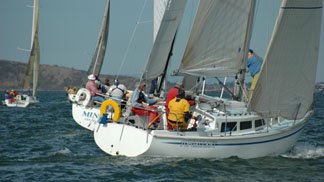 Hardening up at the leeward mark
A list of winners follows. For complete results, go to www.berkeleyyc.org.
SATURDAY:
Div A - Bodacious, Farr 40 One Ton, Clauser/Tosse (12 boats)
Div B - Expressway, Express 27, Michael Robinson (8 boats)
Div C - Chesapeake, Merit 25, Jim Fair (9 boats)
Div D - Ypso, Cal 2-27, Tim Stapleton (5 boats)
Olson 30 - Hoot, Andy Macfie (8 boats)
SF 30 - Shameless, Schumacher 30, George Ellison (6 boats)
Moore 24 - Flying Tiger, Vaughn Seifers. (12 boats)
Olson 25 - Baleineau, Dan Coleman (7 boats)
J/24 - TMC Racing, Michael Winfield (10 boats)
Newport 30 - Zeehond, Gary Boell (5 boats)
Santana 22 - Carlos, Jan Grygier (3 boats)
SUNDAY:
Div A - Personal Puff, Melges 24, Dan Hauserman (10 boats)
Div II - Flexi Flyer, Soverel 33, Mitch Wells (9 boats)
Div III - TMC Racing, J/24, Michael Whitfield (7 boats)
Div IV - Latin Lass, Catalina 27, Bill Chapman (7 boats)
Olson 30 - Hoot, Andrew MacFie (5 boats)
Meanwhile, within spitting distance of the BYC fleet, RegattaPRO's inaugural one-design midwinter series kicked off with two races on Saturday which started off the old Berkeley Pier. A half-hour postponement tagged onto the scheduled first start at 11:30 turned out to be a good thing for the 34-boat, six-division fleet as the breeze was pretty much settled in at 295 degrees by then. Big winners on the day included Timo Bruck's J/120 Twist and Ed Durbin's Beneteau 36.7 Mistral - both of which bulleted both races in their respective fleets. Other fleets signing up for the series include the J/105s, 1D35s, Beneteau 40.7s and Sydney 38s.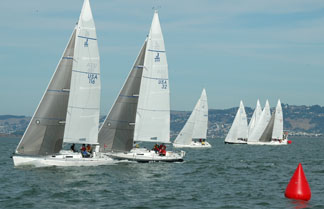 J/105 start
All Photos Latitude/JR
And the winners were:
1D35 - Great Sensation, Grand Prix Sailing (5 boats)
J/120 - Twist, Timo Bruck (7 boats)
Beneteau 40.7 - White Fang, Mark Howe (4 boats)
Beneteau 36.7 - Mistral, Ed Durbin (5 boats)
J/105 - Orion, Gary Kneeland (7 boats)
Sydney 38 - Double Trouble, Andy Costello (2 boats)
For complete results, see www.regattapro.com.