Photos of the Day
October 31 - San Diego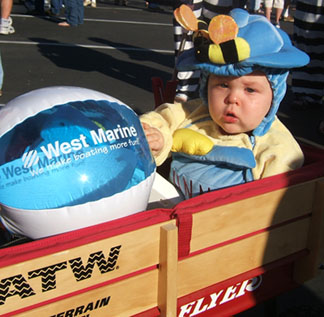 This little one did last year's Ha-Ha in the womb, but is back to do it in full consciousness aboard Winnie The Pooh.
Today's Photos of the Day are from Sunday's Baja Ha-Ha Kick-Off Party in San Diego that was sponsored by West Marine. It was one of the most rousing kick-off parties in the 12-year history of the event, in part because of the ongoing commentary of West Marine's Missy Welch, who had much of the crowd in hysterics for the afternoon, and in part because there seemed to be more younger participants than in recent years.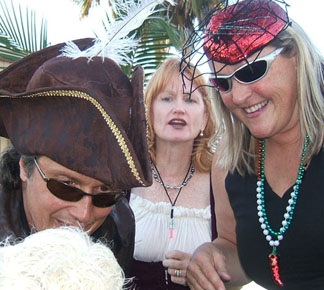 West Marine's Mick, Robin, and Missy knocked themselves out to make the Kick-Off Party a great time.
Lauren Spindler reports that the Grand Poobah and other Ha-Ha folks were having too much fun to keep an exact count, but believes that about 130 boats and 520 sailors checked in to report they would be hitting the starting line. That would make it the second largest Ha-Ha in history. About eight sailors showed up at the event looking to get a berth, and to our knowledge, every one of them did.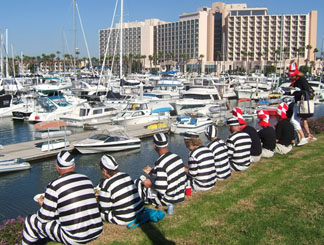 Thanks to the Governor's new early release program, these prisoners were released from the Sheraton 'Big House' to rehabilitate on the way to Cabo.
This year's free swag bag was one of the biggest ever, with each entry receiving a tote bag filled with a Ha-Ha t-shirt, Some Like It Hot t-shirt, Ha-Ha hat, Ha-Ha croakie, navigator's beer cooler, emergency sunglasses, super size burgee, waterproof cash holder, Ha-Ha program, Ha-Ha frisbee, and we can't remember what else. All this and more came from the Ha-Ha itself, and was before West Marine got into the act with gift certificates and prizes for just about everyone with a pulse. At one point the air was literally thick with prizes Welch and cohorts were throwing to the crowd. The grand prize was a inflatable sea kayak.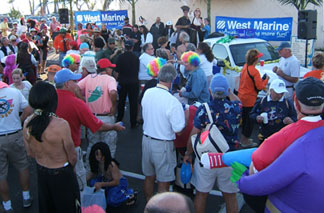 At certain points of the afternoon, it was literally raining free cruiser goodies from the West Marine staff.
As most of you know, the Ha-Ha is the 750-mile cruising rally from San Diego to Cabo San Lucas, with stops at Turtle Bay and Bahia Santa Maria. Commander's Weather, the official forecasting service, predicts winds in the seven to 15-knot range for the first couple of days. This, along with smooth seas, should get the fleet off to a gentle start.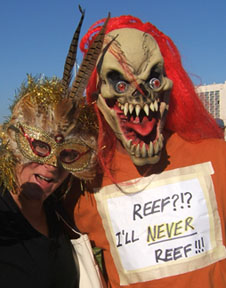 According to Commander's Weather, the first several days of the Ha-Ha should be rather light. But boats that don't get south of Cedros by Friday night or Saturday morning will want to reef.
Representatives from Marina Mazatlan, Paradise Marina, and Costa Baja Marina in La Paz were on hand to take reservations and report on the tremendous progress they and others are making on the coast of Mexico. The boating community - U.S. and Mexican - is booming.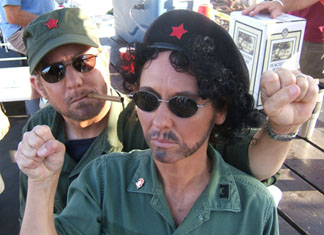 Fidel and Che promise they are going to revolutionize the passage to Cabo. The event will be a "workers' paradise."
Every picture tells a story, and the accompanying ones tell a story of the Ha-Ha getting off to a great start, with people laughing, dancing, making friends - and getting ready to set off on what's hoped to be a terrific adventure.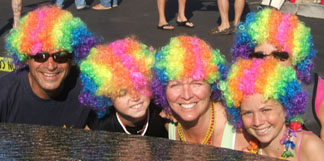 The family that wigs out together, says Dr. Phil, stays together.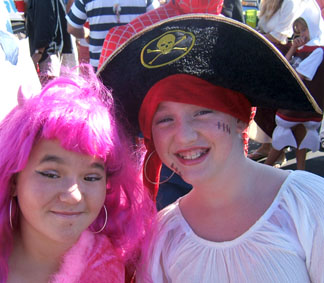 Kids, kids, and more kids - there are lots of them on this year's event.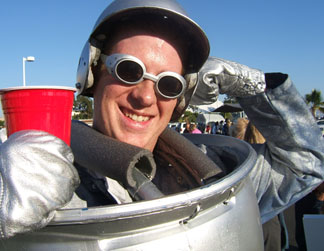 This sailor came dressed as a big keg. It wasn't hard to find the spigot.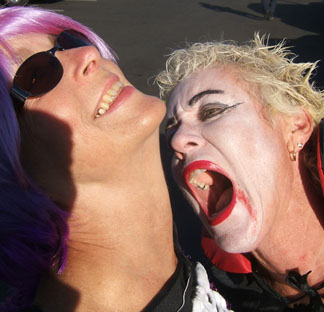 There's nothing that says Halloween like a little blood lust.

These two women were surprised to find their plastic additions attracted lots of male attention. Their husbands weren't


The end.

Photos Latitude/Andy & Richard