Maybe They Haven't Heard About SailMail
October 26 - SF Bay Area
We were lying back in the dentist chair yesterday morning, our mouth stuffed with all sorts of dental implements, when the dental assistant handed us a copy of the October 31 Business Week to keep our mind off our teeth. We opened it up to page 18, and who was staring back at us but Stan Honey, subject of a full-page feature called Virtual Virtuoso.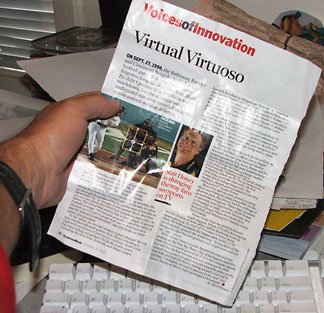 Photo Latitude/Richard
Most of us sailors know Stan as the guy who, together with Jim Corenman, blessed cruisers with SailMail, and as super successful racer with his Cal 40 Illusion, doublehanding a Santa Cruz 70 to Hawaii, navigating Roy Disney's MaxZ86 and Steve Fossett's PlayStation, and so forth. In the world of business, that stuff doesn't even register. They hail Honey for starting digital mapping with Etak in '83, illuminating the hockey puck for Rupert Murdoch's News Corp about 10 years later, and most recently starting the privately-held Sportvision. The latter does things like put the yellow first down line on television broadcasts of football games, the strike zones for baseball games, and will soon be doing other things for the PGA and NASCAR.
The 50-year-old Honey is now in Spain getting ready to navigate ABN-AMRO in the Volvo Around The World Race. And you know what, he's a nice guy, too!