Photos of the Day
October 21 - San Diego
Today's Photo the Day is of one of the burgees for this year's Baja Ha-Ha - which, who can believe it? - starts a week from Monday.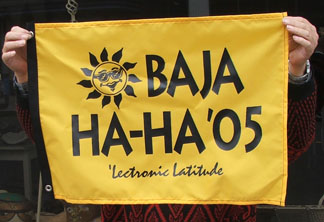 Long-range weather forecasts aren't all that accurate, but so far the weather looks promising. Right through the West Marine Official Ha-Ha Kick-Off Party next Sunday, the forecast calls for sunny days with 70-degree temps. By the way, West Marine's Missy Welch will be back to help MC that event, and she's one of the funniest women we know. "I've got my West Marine team on fire for the event," she writes, "and I'm not puttin' them out until after the party!" Missy makes sure that kids in the Ha-Ha fleet will get a lot of attention at the party.
Still haven't gotten a berth for the Ha-Ha? Work that Crew List and, if need be, show up in San Diego with your bag on Saturday or Sunday ready to go on Monday. We can't guarantee anything, but with nearly 150 boats, there's almost always some opportunities.
With the wild hurricane season in the Caribbean/Atlantic, it's only natural for Ha-Ha folks to be concerned about hurricanes in the Eastern Pacific. In the last 50 years, there hasn't been a hurricane track that would have crossed the Ha-Ha path when the Ha-Ha fleet was there, so that's encouraging. In addition, the Ha-Ha uses Commander's Weather to analyze the weather prior to the start of any leg. The Grand Poobah hasn't contacted them yet, but so far things look good, as the water temperatures off Mexico - particularly around the Cape and north - are cooler than normal. As you probably know by now, one of the things needed to create and sustain hurricanes is water over 80 degrees. That's just one factor, of course, or else there would be hurricanes in the Caribbean year round.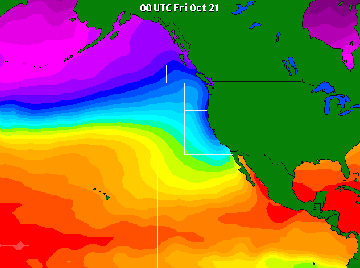 In any event, have a safe trip to San Diego, and we'll see you at the Skipper's Meeting and Kick-Off Party a week from Sunday.