Photos of the Day
October 19 - Key West, FL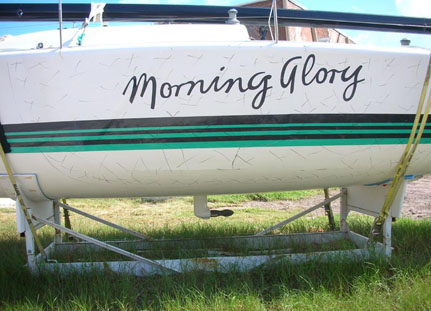 Today's Photo of the Day is proof that hurricanes don't care whether a boat is owned by rich or poor, they just destroy everything they can get their hands on. The boat in the photo is Hasso Plattner's Farr 40 Morning Glory, which was put on a cradle after this spring's Key West Race Week. She was knocked over by a hurricane this summer, but to tell you the truth, there have been so many hurricanes that we can't remember if it was Dennis, Rita, or Katrina. The billionaire founder of SAP Software, Plattner also owns the MaxZ86 Morning Glory - which just smashed the TransPac monohull record - and the Baltic 147 sloop Vizone, so unlike a lot of folks, he won't be without a boat to sail on.
We bring up hurricanes in that part of the world because overnight Hurricane Wilma surged from a Category 1 to a Category 5, with winds to 150 knots. Currently she's due south of Cuba, but computer models show that she'll head northwest, skirt the western tip of Cuba, make a 90-degree curve, cross much-battered Florida, and head up the East Coast. In reality, at this point it's very hard to predict where Wilma could go. For example, it's not out of the question that she'll stop on Bourbon Street in devastated New Orleans for a late night drink.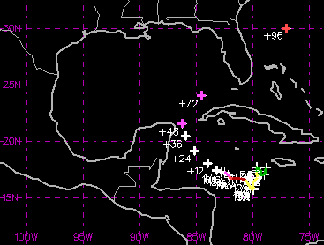 Wilma's projected course
Graphic Courtesy http://weather.unisys.com/hurricane/atlantic/2005
Our best wishes to everyone in this hurricane's path. Hopefully, she'll weaken, but even if she does, she could pack a destructive punch. For proof, see the photo of what the Key West shore looked like after being merely swiped by a hurricane earlier in the year.

Photos Devan Mullin