Angry about Government-Managed Slips in Hawaii
September 28 - Honolulu, HI
"In the September issue, Latitude 38 mentioned that there are 200 slips in ruins in Keehi State Marina," write Rob and Lorraine Coleman, who sailed away from Berkeley many years ago and now live in Hawaii. "According to a marine surveyor who has worked here for 30 years, there are currently more than 800 state-owned and 'administered' slips that are 'unusable'. Unusable? Hell, a huge number of them have not even existed for years! Imagine how much revenue those slips - along with all the other slips that are currently rented at $3.50 a foot - could generate if they were maintained and rented at the market rate of $8-$10 a foot. It boggles the mind.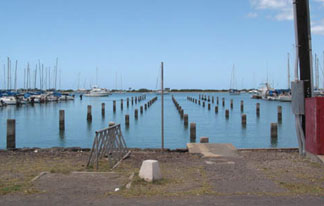 Some of the 800 unusable slips at Keehi Marina
"You wondered what the problem is. Like always, it's money and politics, which are inseparable. Who benefits by keeping the state harbor system in its deplorable condition, and who would 'suffer' under privatization? Liveaboards and slip renters - including wealthy ones with political clout - paying way under-market rents do not want to lose their windfall, of course. Private marina owners also profit by having their marinas full. The government employees who 'administer' these dirty, dilapidated, harbors benefit by having guaranteed income and government benefits for life.
"I spoke with a state senator yesterday who, in his words, has "been working on the problem for six years". He explained that the government employees' union is so powerful that they basically control the legislature in Hawaii, and will not allow privatization to occur in any form, because it will be competition."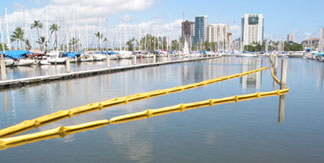 F-Dock at Ala Wai
Photos Robby Coleman
We're going to have more on this in an upcoming issue, but we think the real problems are: 1) Government mismanagement. Are you aware that the Department of Boating has to pay $365,000 a year in rent for a vacant lot in Maui because they thought somebody was going to build a fish processing plant there? And they can't get out of the contract for another 20 years or so. 2) Unions. They really do control Hawaii, and in their case, they put their needs before those of the taxpayers. And 3) The vocal liveaboards in the Ala Wai, who pay almost nothing to live on some of the most valuable real estate in the world. Our predication is that the Ala Wai will continue to deteriorate until nothing is left - or the management is turned over to a private company.
By the way, it's come to our attention that many members of the Hawaiian legislature are hyper sensitive about the government being incompetent at marina management. Roy Disney's kind letter encouraging them to fix the Ala Wai apparently offended them.