No Thanks on the Northwest Passage
September 21 - Northwest Passage
Two Marin sailors, Bob van Blaricom and Carl Seipel, joined the Minnesota-based Bowman 57 Cloud Nine for an attempt on the Northwest Passage this summer. Seipel, who bailed before the attempt was thwarted by pack ice, said it was no pleasure cruise. And the landscape wasn't that cheerful either. Check out, for example, the bleak graves of the members of the ill-fated Franklin Expedition of 1845: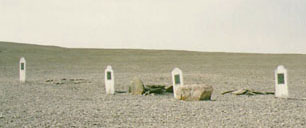 They were missing for 50 years before the bodies - well-preserved in the ice - were found. The cause of death? Bad canned food!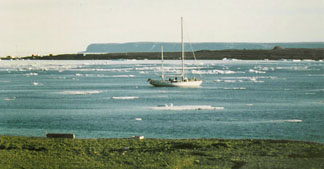 Even on the days the sun came out, it wasn't that inviting an environment.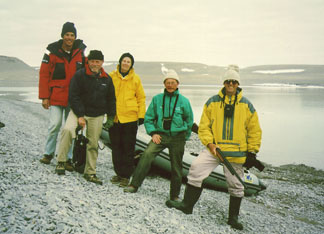 The crew of Cloud Nine: Chris, owners Roger and Gaynelle, Bob van Blaricom, and Carl Seipel. Carl is holding a rifle because there are polar bears all around, they're hungry, and they have no fear of man.
Having apparently had enough of the gloom, Seipel, an instructor at OCSC, will be setting out on his Yankee 30 in November for a cruise to New Zealand. In so doing, he'll be retracing the beginnings of the circumnavigation he did with Hans Bernwall in 1970 aboard the 40-ft wood cutter Fia. Unlike the last time, Carl won't have to rely on a sextant and leadline, and will carry a radio.