Details on the Diving Death of Steven Swenson of Trinity
September 19 - Costa Rica
As reported last Friday, Steven Swenson of the Seattle-based Hallberg-Rassy 46 Trinity died in a tragic diving accident off northern Costa Rica on the afternoon of September 11. A genuinely terrific guy who had learned to sail on San Francisco Bay, Steven was the father of youngsters Leif and Gage, and the husband of Roma. Those who did the Ha-Ha last year will remember the family was awarded the Spirit of the Ha-Ha award, the event's most prestigious.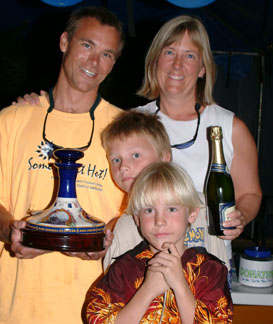 The Swensons
Photo Latitude/Andy
While on the boat in Costa Rica during the summer, the very athletic Steven had become passionate about diving. He did much of his diving off Playa Panama near Playas del Coco in the Gulf of Papagayo. When Roma and the kids returned to the States for five weeks, Steven dove almost every day. And when they returned to the boat, he continued to dive frequently.
According to Eric and Melissa Lockard of a Seattle-based Hallberg-Rassy 53, who with their kids had been almost constant companions with the Swenson family since the Ha-Ha, on that fateful afternoon Steven and another cruiser were diving at King Kong Rock, with a third person in the dinghy. The visibility in the water was poor, and Steven and the other diver got separated while underwater. Then a boat came overhead. Steven's dive partner stayed down longer than usual so as not to get hit by the boat. When he surfaced, the person in the dinghy told him he'd seen Steven surface - and then quickly submerge again. This would be consistent with what's known as 'shallow water blackout'.
Although nobody knows for sure, the speculation is that Steven might have had to stay down too long to let the boat go by, blacked out, shot to the surface, then sank and drown. They searched for his body until dark, but couldn't find him. Steven's body was recovered the following day in 65 feet of water. There was no sign he'd been hit by a boat.
Steven was not wild and reckless. Friends recall that despite the pilots telling him that it was safe to cross a bar at El Salvador and into the lagoon to a marina, he resisted for a long time. He finally decided to move on rather than take what he considered to be too great a risk.
"Steve was a close, dear friend," say the Lockards. "He had an adventurous spirit and great passion for life and all this world has to offer. We will miss him terribly. Our hearts and thoughts go out to Steve's family, and particularly to his wife Roma and their two boys, Leif and Gage. Photos of Steve and information on sending condolences can be found on our Web site at: www.sulaadventures.com.
A fund has been set up for Steven's sons. If you wish to contribute, send your checks to Swenson Children's Fund, 4580 Klahanie Drive SE, Suite 154 Issaquah, WA 98029. Lauren Spindler, the president of the Baja Ha-Ha, announced today that the Ha-Ha has contributed $2,000 to the fund in the name of all those who did the '04 Ha-Ha with the Swenson family.