Big Boat Series Starts Tomorrow
September 14 - San Francisco

Ninety-five boats are set to begin racing tomorrow in the 41st Rolex Big Boat Series, the annual 4-day, 7-race series hosted by St. Francis YC. This year's fleet consists of 34 boats in four IRC divisions, as well as five one design classes (1D-35, J/120, Sydney 38, Express 37, and J/105s, which at 29 boats make up almost one third of the entries).
The most interesting class, in our opinion, will be the 9-boat IRC-A division, which will be going to a weather mark out near the Potato Patch. This group, which is top-heavy with pro sailors, includes some of the most prominent campaigns in the sailing world: Morning Glory, Genuine Risk, Beecom, Peligroso, Moneypenny, Pegasus 52, Flash, Pendragon 4, and Staghound. The smart money would be on the planing boats, but no one is quite sure how IRC will treat these boats.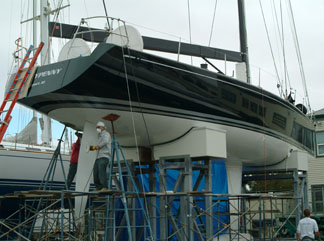 Moneypenny, a new Swan 601 (above) and TransPac Barndoor winner Morning Glory (below) get ready at KKMI.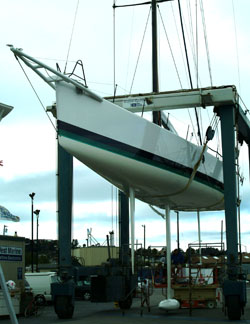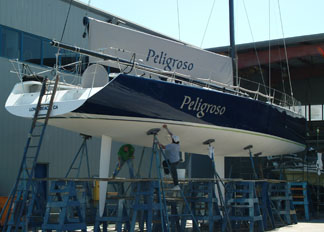 Just launched this spring, Peligroso, a DenCho 70, preps at Anderson's in Sausalito.
Photos Latitude/Rob
The racing, which promises to be cold and somewhat windy, commences at 11 p.m. Thursday, with two races a day scheduled each day until Sunday's Bay Tour. As usual, there will be two separate race tracks - Cityfront and North Course - with the big boats heading out into the ocean, which should create some fantastic viewing from the Marin Headlands and the Golden Gate Bridge (aka, the Latitude helicopter).
Check www.stfyc.com for the full schedule, list of competitors, and more.