Etchells Worlds
September 12 - San Francisco Bay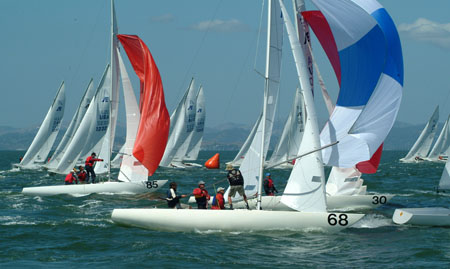 Tito Gonzales and crew sail #68 around a windward mark.
Australian Rob Brown led wire-to-wire in the seventh and final race of the Richmond YC-hosted 2005 Etchells Worlds on Saturday, topping runner-up Shark Kahn and Hong Kong talent Mark Thornburrow. But the day belonged to Tito Gonzales, a 46-year-old Chilean pig farmer, who ironically OCS'ed the last race - yet won the Worlds anyway with a 5,8,11,3,4,1,(73) record.
Gonzales - sailing with boat partner Bill Mauk, Jeff Linton, and 17-year-old son Diego Gonzales - was fourth on the water in that race, ostensibly winning the Worlds with that fine finish. At the dock, the crew got the bad news that they were one of seven boats OCS'ed in the final race. Then, amazingly, there was good news, at least for Gonzales - regatta leader (and perennial runner-up) Jud Smith was also OCS'ed, which handed Gonzales the title. "Yesterday, we were happy to be in contention," he said. "To win is amazing!"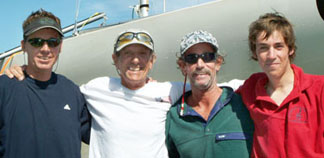 The winning crew (l-r): Tito Gonzales, Bill Mauk, Jeff Linton and Diego Gonzales
Even more unlikely is that Gonzales is a newcomer in this class, one of the toughest in the World. Gonzales, a four-time Lightning world champion, teamed up with fellow Lightning vets Mauk and Linton (also a Lightning world champ), in January, debuting at Miami's Jaguar Cup. They were enough under the weight limit to take along young Diego as their bowman, bringing their crew up to four instead of the usual three. They sailed three regattas previous to the Worlds, and then arrived two weeks before the regatta to train with Dennis Conner. Obviously, they learned something.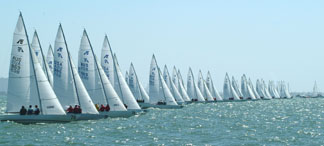 The final start
"When we first saw them on the starting line, with the kid calling the line from the bow, it looked all wrong. We had no idea who they were and thought, 'Whoa, what a bunch of farmers - let's stay away from that boat," laughed Dave Gruver, who sailed with Craig Healy. "As it turned out, Tito is a farmer, and we should have stayed as close as possible to his boat!"
Shark Kahn, all of 16 years old, finished second overall, and would have won the regatta if his second place finish in the penultimate race hadn't turned into an OCS. Other top local finishers included Russ Silvestri (11), Peter Vessella (13), Philippe Kahn (18), Craig Healy (21).
1) Tito Gonzales, USA, 32 points; 2) Shark Kahn, USA, 35; 3) Iain Murray, AUS, 39 ; 4) Hank Lammens, CAN, 44; 5) Jud Smith, USA, 48; 6) Brian Thomas, USA, 51; 7) Stuart Childerley, GBR, 55; 8) Vince Brun, USA, 60; 9) Mark Thornburrow, HGK, 67; 10) William Palmer, USA, 72. (72 boats; 7 races; 1 throwout) Full results can be seen at www.sfetchells.org.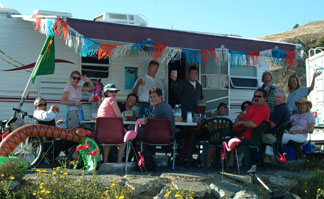 Andrew Whittome's trailer in the Richmond YC parking lot. "I'm living the American dream," joked the Aussie.
Photos Latitude/Rob