Gone Cruisin'
September 7 - Southern California
Thirteen days ago - although it seems like two years - your main 'Lectronic editor took off for a little cruising in Southern California aboard Profligate. The primary idea was to get away - really get away - from the 12-hour days at the keyboard, the Internet, and all the other little workaholic things that go along with publishing the world's biggest - in terms of pages - sailing magazine.
Usually when we go on 'vacation', we still work a lot, taking photos, interviewing people, writing stories, and providing much of the material for 'Lectronic. This time we were determined not to do any of those things. We were just going to get on the cat in Newport Beach, take care of a few items, and spend a week singlehanding around Catalina before Doña de Mallorca joined us for the second week.
Our 'no work at all' plan got shot to hell after about an hour, when one of the big Thursday night races started right next to our mooring in Newport Beach. How could we not get out the camera? Then rigger Chuck Simmons pulled alongside in his Whaler, and took us along to follow the fleet to the windward mark at the far end of Newport Bay. It was blowing about 12 knots, and Simmons told us it was one of the best breezes of the summer for the evening races. Sailing is so different in Southern California than on San Francisco Bay.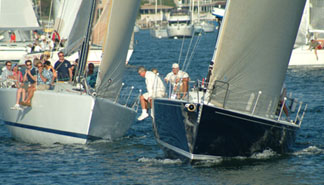 The 1D-48 It's OK! and the J/165 Barking Mad hit the starting line of the Thursday night races.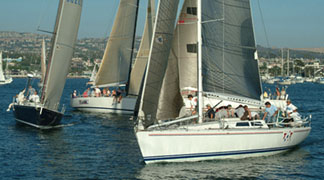 Four of the big boats tack off the moored boats on the side of the main channel.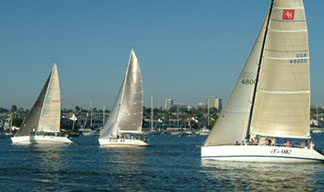 The N/M 55 Bolt leads T&T and It's OK! in classic Newport Beach conditions.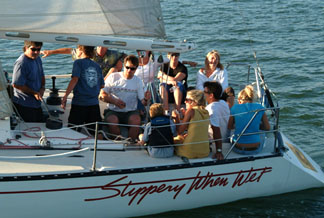 Men, women, children - there's at least a dozen of them aboard the Santana 35 Slippery When Wet.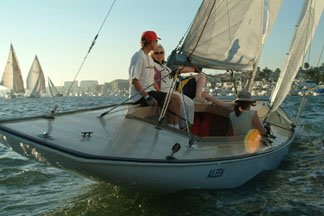 A close-up view of one of six UC Irvine Sailing Association Shields to be seen on Newport Bay.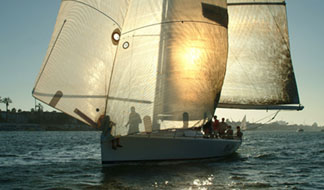 Spinnakers aren't allowed, so the boats set two headsails for the run back down the bay. It's a weird look we haven't seen anywhere else.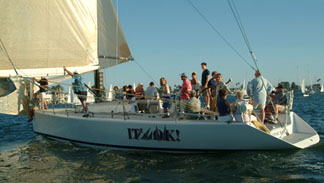 With a crew of more than 20, It's OK! looks like a boat doing a Wet Wednesday in Santa Cruz.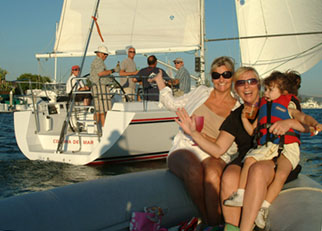 Only in Newport. Chuck Simmons' wife, daughter, and friend fraternize with a race boat during the race.
On the way up the bay, we came to Orange Coast College's sailing base, where Director Brad Avery was standing on the bow of the newly-donated S&S designed 80-ft Kialoa III, one of the most historic racing yachts ever. It was with this yacht that owner Jim Kilroy introduced the concept of going all over the world to compete in all the great races. Kialoa III has done it all, from TransPacs, to Sydney-Hobarts, to SORCs, to the tragic Fastnet Race of '79. Although Kilroy would build several more modern Kialoas for racing, he always kept III for cruising, often in the Med. In fact, we remember berthing Big O next to her in Marmaris, Turkey, a decade ago.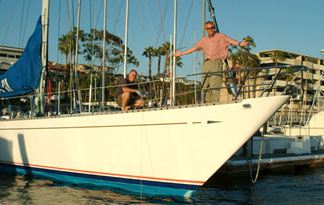 A happy Brad Avery of Orange Coast on the bow of the great Kialoa.
A smiling Avery gestured toward the open dock space next to Kialoa and said, "This is where Pyewacket is going to live." As most Latitude readers know, Roy Disney recently donated his $7 million MaxZ86 Pyewacket, along with money to maintain and operate her, to Orange Coast College. What a coup for Orange Coast!
The next day, Avery entered Kialoa III in the three-day Long Point race series to Catalina, up the face of the island, and back to Newport. "We were fifth of five boats in class," he later said, "but we had a great time." A better No. 2 would have helped. We'll say this for Kialoa III - she appears to be in terrific condition and will be a terrific addition to the Orange Coast program.
For Big Boat Series and TransPacs, of course, Kialoa III's big rival was the much-beloved Guerney-designed 72-ft Windward Passage, no doubt the greatest racing yacht ever built on a beach. As Simmons motored us another 150 feet up Newport Bay, there was Passage, positively gleaming in her berth. Her current owner, who reportedly takes her sailing every Friday, is keeping her in perfect condition. We salute him.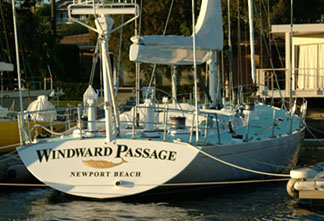 The legendary Windward Passage, looking fantastic
While we had immediately broken our vow of not working, we've done much better in the last 12 days. The singlehanding to and around Catalina, as well as over to Redondo Beach and back, was spectacular. Everybody should singlehand for a week or more from time to time, as it's good for the soul. For much of that time, our 'home' has been six to 10 feet of water above Harbor Reefs, which is about a quarter of a mile off Two Harbors, Catalina. What a great place that has been. We'll tell you more about it on Friday.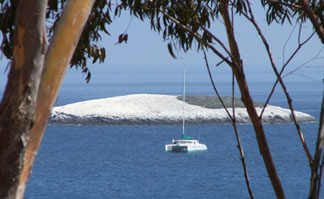 Profligate's 10-day home atop Harbor Reefs.
Photos Latitude/Richard
Having not been on the Internet in nearly two weeks, we don't know what the weather has been like on San Francisco Bay. We hope it's been as good as down here, where we haven't seen fog since we arrived. Each morning when we awake to look out our hatch, there has been nothing but blue sky. And just before hitting the sack at night, the Milky Way has been bright over our heads. In other words, it's been the most perfect Southern California offshore weather we've ever seen. Shorts and T-shirt weather day and night.