Baja Ha-Ha Deadline Looms
August 31 - Tiburon
Baja Ha-Ha head honcho Lauren Spindler reminds all potential entrants that the entry deadline for this year's event is September 10. If you've been procrastinating, time is running out. See www.baja-haha.com for details.
For the uninitiated, we should explain that the Ha-Ha - now in its 12th year - is open to all. Here's a sampling of some of this year's entries. (Excerpted from profiles which appear in this month's edition of Latitude 38.)

Sandpiper - Yorktown 35
Tom & Amy Larson, Tiburon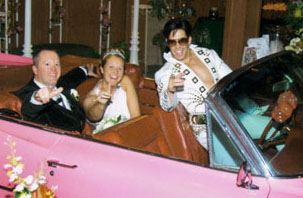 Tom and Amy of Sandpiper got hitched in Vegas - by Elvis! The Ha-Ha is their honeymoon.
Having retired from a 20-year career in the Coast Guard, Tom undoubtedly has spent more time at sea than most Ha-Ha entrants. But his sailing career began even earlier.
When he was seven, his dad sold his businesses in Santa Barbara, loaded the family into a van and drove to Florida where they moved aboard a home-built steel ketch. Aboard her, they vagabonded around the Caribbean and southern U.S. for several years earning money by "hand line fishing." Eventually returning to California, Tom entered the Guard immediately after graduating from high school. During his career, he has done everything from buoy tending to drug interdiction to HAZMAT cleanup - he spent a month at Ground Zero in New York after 9/11 and another month in D.C. cleaning anthrax out of the Hart Building!
"My story starts six years ago," says First Mate Amy. That's when she started dating Tom and sailing the Bay. The first time she crewed for a friend in a race, they ended up on the rocks shortly after the start. "Is this supposed to happen?" she queried.
Recently married, the couple hopes to sail around the world in their vintage Yorktown. The Ha-Ha will be the official beginning of their honeymoon.

Epifania - 45-ft Steel Sloop
The Bentz Family, Albuquerque, NM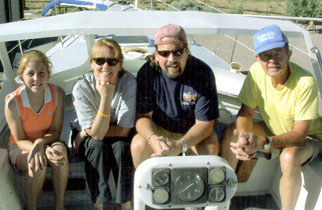 Epifania has finally left the desert. L to R are Dakota, Tammy, Les and Ron.
Here's an inspiring tale. About eight years ago Tammy and Les dreamed up the idea of someday unplugging from the workaday world and going off sailing with their young daughter. Besides the fact that they lived out in the desert, the only problem was they didn't know how to sail. Oh, and they didn't have a boat either.
No matter, they picked up a J/24 and learned to sail on local lakes, then "scrimped and saved" in order to buy this custom steel sloop in an unfinished state. They trucked her out to Albuquerque and have been laboring over her ever since. Now, however, she's all fitted out and ready to go. Tammy and Les have quit their jobs in high tech, they've signed on their athletic 13-year-old daughter Dakota as First Mate and shanghaied Les's dad, Ron, who is 74 years young, to be their "Science Officer" aka Mr. Fixit. After the Rally, they'll continue south to Central America.

Bingo - Choate-Fao 37
M. DeMeritt & Bryan (BW) Maher, Hermosa Beach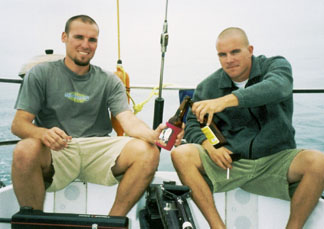 Young dudes on vacation. 'M', 'BW' and the boys are headin' out aboard Bingo.
We get the feeling that although 'M' and 'BW' are only 28 and 27 respectively, they've already had enough of the rat race. As they put it, "We just want to get as far away from the 405 freeway as possible." Their game plan is to keep on going. . . first south along the Central American coast, then west into the big blue Pacific.
Joining them, at least until reaching the Cape, will be Joel McFadden and Scott Cincotta. We've never met any of these young bucks, but we're impressed that each of them has already earned a Coast Guard captain's license. Still, we imagine they'll be easy to spot on the dance floor at the famous Squid Roe.