Patricia Belle - Something Old, Something New
August 29 - Two Harbors
One of the largest boats planning to participate in this year's Baja Ha-Ha Cruisers Rally is Pat and Jeannie Hughes' 85-ft (sparred length) Patricia Belle. The salty black schooner is also one of the most interesting - despite being launched less than 10 years ago, much of the gear on the Belle dates back 50 years or more. Lots more.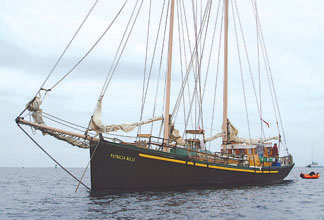 Patricia Belle at Two Harbors in Catalina. The boat is currently homeported in Ensenada.
At heart, Patricia Belle is a modified George Buehler design that Pat and a crew of neighborhood kids - including his four sons and a daughter - built over a three-year period in the mid-'90s in Port Orchard, Washington. Construction is traditional plank on frame, and she's all Douglas fir, from keel to truck. And the fun facts started there. Although Pat says he did actually buy some wood, the self-admitted scrounger also acquired much of it either cheap or free, as windfall (trees that had been felled by wind) and escapees from log rafts. At the time, Pat was skippering a ferry boat on Puget Sound. Whenever he'd spot a big log on one of the many islands, he'd plot the coordinates and come back later with a boat to tow it off.
Once building got underway, Pat used his many contacts from a lifetime as a professional mariner to outfit her. Among the gear: an old GMC diesel out of a scrapped fishing boat, portholes from an 1892 tugboat, Barient jibsheet winches salvaged from a wrecked sailboat, the steering gear out of an old dump truck, and main and foresheet blocks that used to be lifeboat davit blocks on a World War II Victory ship. The list goes on and on.
| | |
| --- | --- |
| Pat Hughes. Patricia Belle is the third boat he's built. | The Belle's current crew includes Pat's son Steven (second from top). |
The Belle - named for Pat's mother - was launched in 1997 and used her maiden voyage to haul a cargo of coffee beans from Nicaragua to San Diego. Yes, cargo - along with everything else, she has a cargo hold. While in San Diego, Pat met Jeannie, and the two of them have been together ever since.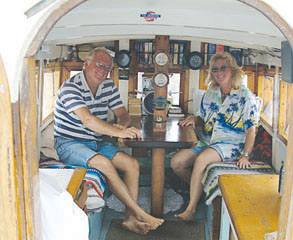 Jeannie Hughes with crewman John Entner in the pilothouse parlor
Photos Latitude/JR
Read more about Patricia Belle - and a bunch of other Ha-Ha participants - in the September issue of Latitude 38, which will be distributed around the Bay Area and shipped to other locations this Wednesday.