Photos of the Day
August 15 - Isthmus Cove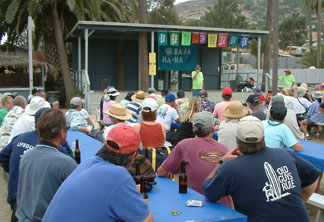 The skippers from about 50 boats showed up for the Grand Poobah's afternoon presentation on the Ha-Ha.
Today's Photos of the Day are from Saturday's very low-key Baja Ha-Ha Preview at Isthmus Cove at Catalina. We were surprised that the skippers and crews from 52 boats showed up during the course of the event, which consisted of an event preview, barbecue potluck, and evening slide show. In addition to skippers who would be doing the Ha-Ha this year, there were others from years past and some who won't be able to do it for another two or three years. But everyone was welcome, of course, and seemed to have a good time.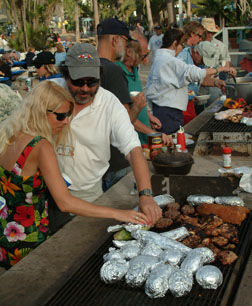 In the best Ha-Ha tradition, folks brought more food to the potluck than they ate.
We're not sure about the others, but speaking as the Grand Poobah, the get-together was something of a revelation, as many folks in attendance still seemed a little unclear about the exact nature of the Ha-Ha. They stopped by to see if it was something they might want to do. We tried to explain that the Ha-Ha is a noncompetitive event in which the primary goals are for everyone to have a fun and safe passage to Cabo, and meet a lot of like-minded cruising folks along the way. We further explained that the intention of the Ha-Ha rally committee is to have as few rules as possible and to concentrate on facilitating whatever kind of responsible fun everyone might like to have.
As when dealing with groups of people, there is always some funny stuff. One first mate said she was unsure about joining the Ha-Ha fleet because she was worried that people would drink while underway and that boats then might collide. We saw her about two hours later, and oddly enough, she appeared to have consumed enough alcohol to require considerable assistance walking down the pier to the shore boat. The truth about the Ha-Ha is that everyone is so concerned about safety that hardly anybody drinks while underway - and not that much while ashore either. Aboard Profligate, for example, we allow only one cocktail during the entire trip, and that's on the last night, and only if the weather is mild.
Among the cool people we met at Catalina were Jerry McArdle and his 12-year-old son Slater from the Alberg 35 De la Sol. Jerry has graciously offered to put himself in charge of the activities for kids, and based on what we've seen, they are going to have a ball! The boys in particular better get some sleep before the start, because we think Jerry is going to run them ragged.
Another interesting skipper eager for the Ha-Ha to start is Pat Hughes, who not only built the 83-ft schooner Patricia Belle, he also cut down the trees for the house and interior. Since launching her, he's sailed her all over the place, including through the Canal to the Caribbean. We'll have more on him in the September issue.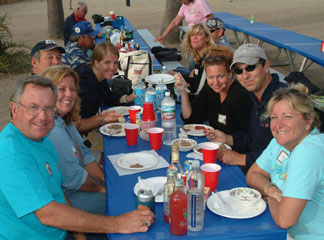 Renne and Anne, the first two on the left, have done three Ha-Has, and will be doing their fourth this year.
Among those in attendance - and we apologize for any misspellings - who are going to Ha-Ha this year or are thinking about it for the future were: Mahalo III, Hunter, Dick and Sharon Davidson; Plan B, Beneteau 473, Jim and Carol; Allegro, Catalina 42, Jim and Mary Brye; Goodspeed, ferro gaff cutter, Jim Rall; Indiscipline, Catalina, Jim Baumgart; Tres Estrellas, trimaran, Jeff Nelson; Ticket to Ride, Celestial 50, Damien McCullough; Blue Note, Beneteau 473, Kevin and Rhonda; Wahoo, Bertram 35, March & Lina; Dolphin, Crealock 37, Bill and Patty Meanley; Capriccio, Sabre 38, Jan & Vivan Meermans; L'Esperance, Beneteau 393, Skip and Mimi; Interlude, Morgan 382, Dan & Peggy Cox; Mer-Sea, Beneteau 461, Tom & Marlene Hynes; Liberty Call II, Hunter Legend 37.5; Ron and Anita; Air Ops, Amel Maramu, Dave & Merry Wallace; Gettin' Around, Catalina 400, Doug and June Springstead; Sea Ya, Newport 30, Axel Heller, John and Tom; Stormy Weather, Hatteras 48, Jean and Dudley King; Hope 4 Happiness, Nordic 40, Hope Olson; Gypsy, Columbia 52, Steve Steinberg & Jenny; Ms. Sociable, Tolly 25, Vicki Guy; Windarra, Roberts 44, Steve Bergo; Bacchanalia, Cal Cruising 36, Matt Nelson; Tartan 3500, Ron & Leslie Sherwin; So Good, Beneteau 36, Rich & Pat Merrall; Doc Holiday, Tayana 37, Dana & Roger Morgan; Nuage, Freedom 33, Ron and Jenny; Sun Cizek, Yankee 30; Patricia Belle, 83-ft schooner, Pat Hughes; Pacifico, Beneteau 42, Fred Lungren; Moontide, Bill and Linda Lilly, Lagoon 47; Beach House, Switch 51, Scott Stolnitz; Cassiopeia, Swan 65, Renne & Anne; Gusto, Islander 30, Charly Ellery; Windchaser, Beneteau 42, Harry & Judy; Tamara Lee Ann, Celestial 48, Doug & Kirstin; Aquarelle, MT-42, Diane & Ken Kay; Rocket, SC 50; De la Sol, Alberg 30, Jerry and Slater McArdle; Hoofbeats, Beneteau 41, Tony & Sharon Matthews; Serenity, Westsail 32, Jim and Eve Moresco; Alegra, C&C 37, Alan and Valerie Paul; Duetto, Voyage 43 Cat, Stewart & Jean Kaplan; Meralee, Atkins 32, Sue, Eric, Ryan, and Athena Lee; Summer Wine, Catalina 42, Walt and Vi Gonzales; Ping, Beneteau 42, Rick & Donna Lucas; Nellie Juan, Sabre 42, Ken & Judy Pendelton; Pacific Enterprise, Contessa 43, Jerry McNeil; Simon Says, Beneteau 405, Mike & Deana Dever; Pasado Manana, Newporter 40 Ketch, Rocky and Lisa; and Delicia, Cascade 42, Karl and Liz Parker.
To date, 192 folks have requested entry packets for this year's Ha-Ha, which starts on October 31. We'll publish a complete list of paid entries in this Wednesday's 'Lectronic.