Roy Disney Donates 86-ft Pyewacket to Orange Coast College
August 12 - Newport Beach

Orange Coast College in Newport Beach has some spectacular news:

Upon retiring from racing across the world's oceans, Roy E. Disney has donated his record-breaking 86-foot yacht, Pyewacket, to Orange Coast College and its renowned sailing school in Newport Beach. The former Walt Disney Co. vice chairman presented his gift on July 28 to college officials in Honolulu following his 16th and final TransPacific Yacht Race. Launched in 2004 at a cost of approximately $7 million, Pyewacket is among the fastest and most advanced racing sailboats in the world. She has a mast that towers 120 feet, and a movable hydraulic keel.

For Disney, 75, the latest Pyewacket represents a final step in a progression of sophisticated racing yachts that he has campaigned in venues throughout the world. Capable of sailing faster than the wind, Disney's latest creation dazzled the sailing world in 2004, winning the Caribbean Big Boat Series, Cork Race Week (Ireland), and The Rolex Maxi Yacht World Championships. In giving the boat to OCC, Disney's goal is to share Pyewacket with other sailors who have a passion for big, fast boats.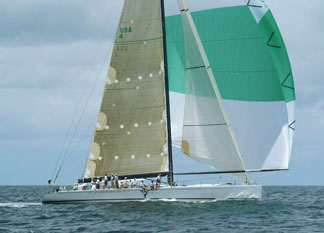 Photo Latitude/Richard
"My crew and I have so many great memories of spectacular sailing aboard Pyewacket," Disney said. "It's been a tremendous ride. There's nothing like the size and speed of this boat. It gives me great pleasure to know that Pyewacket will now be sailed by many sailors.

"Pyewacket is the largest, fastest and most advanced sailboat ever given to OCC, by far," says Brad Avery, director of the School of Sailing and Seamanship. "She will give our advanced students an incredible learning experience, found nowhere else."

This has been a great year for the Orange Coast College sailing program, which is in its 50th year and is the largest public sailing program in the United States. For in addition to getting Pyewacket, several months ago they got Kialoa III, which was to ocean racing 30 years ago what Pyewacket is to ocean racing now - state of the art. Disney will have Pyewacket's shorter bowsprit and canard put back on, and her keel will be reduced in draft from 18 to 12 feet.