Second Half Opener
August 10 - San Francisco Bay

Despite an unfortunate conflict with StFYC's Aldo Alessio Regatta, the EYC/YRA Second Half attracted 79 in 16 classes over the weekend. On Saturday, all classes except the Santana 22s sailed a 22-mile course from T.I. out to Bonita, followed by a lively chute run back to the finish in front of Encinal YC. About 50 boats stuck around for Sunday's buoy race.

Winners of the Saturday race follow. Full results of both races are posted at www.yra.org.
DIV. G - Tupelo Honey, Elan 40, Gerard Sheridan. (9 boats)
DIV. J - Petard, Farr 36, Keith Buck. (9 boats)
DIV. K - Encore, Wylie 30, Andy Hall. (7 boats)
DIV. M - Latin Lass, Catalina 27, Bill Chapman. (4 boats)
SPORTBOAT - Wile E. Coyote, Express 27, Dan Pruzan. (4 boats)
SF 30 - Bay Loon, J/29, Joe Ferrie. (5 boats)
IOR WARHORSE - Tiger Beetle, N/M 45, Rob Macfarlane. (3 boats)
ALERION 28 - Lazy Lightning, Jason Freskos. (5 boats)
ANTRIM 27 - Cascade, Steve Rienhart. (3 boats)
CAL 29 - Blujacket, Bill O'Connor. (3 boats)
CATALINA 30 - Goose, Mike Kastrop. (4 boats)
EXPRESS 37 - Stewball, Caleb Everett. (4 boats)
OLSON 30 - Family Hour, Bilafer Family. (6 boats)
NEWPORT 30 - Fast Freight, Bob Harford. (5 boats)
OLSON 25 - Hamburger Haus, Jens Jensen. (6 boats)
SANTANA 22 - Elaine, Pat Broderick. (2 boats)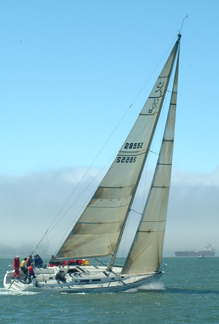 Tom Sanborn's SC52 City Lights, seen here enroute to Point Bonita, was first to finish, but slipped to third in Div. G
after the PHRF handicaps were applied.
Photo Latitude