Aldo Alessio Regatta
August 8 - San Francisco Bay

St. Francis YC hosted its annual three-day, four-race Aldo Alessio Regatta over the weekend, providing a range of courses and conditions for 50 boats. The series, which most crews used as a tune-up for next month's 41st Big Boat Series (Sept. 15-18), began with a foggy, light-air, abbreviated ocean race on Friday, followed by two moderately windy Cityfront races on Saturday, and concluded with a fun 20+ mile Bay Tour on Sunday.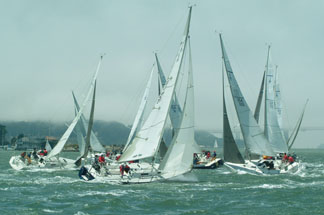 J/105s playing pinball -- no place for the faint of heart.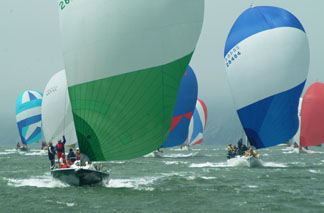 Mr. Magoo at left, leads the J/120 charge.
Phil Perkins won the big pickle dish, the Alessio Perpetual Trophy for best performance in Friday's ocean race, with his all-conquering J/105 Good Timin'. Perkins sailed with boat partner Dave Wilson, Tom 'Isi' Iseler, Darren Ward, Dennis George, and Aimee LeRoy. It was a good weekend for the Perkins brothers - while Phil was taking care of business at home, brothers Jon and Chris finished first and second, respectively, in the Knarr International Championship (IKC) in Oslo, Norway.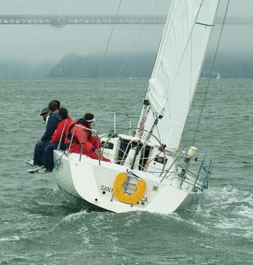 Good Timin' showed her transom to the J/105 fleet again.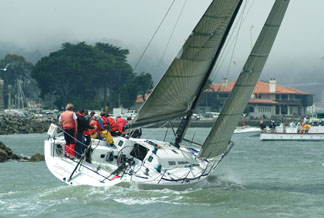 IRC winner Zephyra, encounters the fishing fleet off Irv's Rock.
Photos Latitude/Rob
J/120 -
1) Chance, Barry Lewis, 12 points;
2) Mr. Magoo, Steve Madera, 13;
3) Jolly Mon, Mark Bowman, 14. (10 boats)

J/105 -
1) Good Timin', Phil Perkins, 5 points;
2) Aquavit, Tim Russell, 8;
3) Brick House, Kristen & Peter Lane, 19;
4) Orion, Gary Kneeland, 26;
5) Arbitrage, Bruce Stone, 31. (24 boats)

IRC -
1) Zephyra, DK 46, Robert Youngjohns, 9 points;
2) Scorpio, Wylie 42, John Siegel, 10;
3) Double Trouble, Sydney 38, Andy Costello, 13;
4) Bustin' Loose, Sydney 38, Jeff Pulford, 15. (12 boats)

PHRF -
1) White Dove, Beneteau 40.7, Mike Garl, 6 points. (4 boats)
Full results - www.stfyc.com.