In the Belly of the Southland Beast
August 5 - Santa Barbara

Last weekend we - Christian, Heather, Francois, Dona de Mallorca, and the Wanderer - took Profligate south from Sausalito to Santa Barbara in preparation for Friday's race to King Harbor. We saw more whales than knots of wind between the Gate and Pt. Arguello, but at least the seas were flat and it wasn't very wet or cold.

We finally set the chute in zephyrs abeam of Arguello, but within half an hour the fog cleared and the wind was blowing from aft at 25 knots or more. It made jibing the big main just before Conception a little more interesting than normal. We've never seen full battens quite so dramatically tortured.

Often the wind dies just east of Conception, but last Sunday it continued to blow at 15 to 20 knots most of the way down the channel to Santa Barbara itself. Although the swell was tiny, when on port tack the cat lined up perfectly with what little swell there was, resulting in many 15 to 17-knot surfs. It was dreamlike sailing as the sun was bright, the air was warm, the crew was great, and most of the time we were following a part of the California coast that doesn't look any different from the way it did 500 years ago.

The first person to bang on the hull the next morning was Seth Bailey of the Alameda-based Cheoy Lee 43 Route du Vent. He'd sailed down to Ensenada to get a bottom job at Baja Naval. He said he only saved a little money over having the job done in the Bay Area, so he'd just been using it as an excuse for a trip south.

Then we were visited by Nothern Californian Tim Murrison, who has his 44-ft wood boat - we've forgotten the name - in Ventura in anticipation of this weekend's McNish Classic Regatta. Paul and Chris Kaplan will also be in that event with Bogart's old schooner Santana.

As for us, this morning we start the 33rd Annual Santa Barbara to King Harbor Race, an 81-miler that looks like it's going to be through the fog in light air. We've managed to convince the Edwards family to enter their Northern California-based Marquesas 53 cat Rhapsodie. It should be interesting, as it will be their first race after cruising nearly five years in the South Pacific. Other Northern Californians in the race are Paul Martson and Dean Daniels with Paul's F-31 Sally Lightfoot. Three years ago the duo took fleet honors with the Antrim 27 Nemesis.

Among the 131 or so entries is Jake Wood's Mull 84 Sorcery, which back in the '80s was among the fastest maxis in the world. We understand that part of her crew will include the 78-year-old Bob Dixon, a sailing legend out of Newport Beach who is an all-time nice guy.

Another notable entry is the Northwind 58 On The Air, a lovely new blue cruising boat that just came together in the last week. She's owned by Dr. Laura Schlesinger, an avid sailor known to the radio world simply as 'Dr. Laura'. We're not sure if she's going to be running a call-in show for sailors during the race, but last night - after a number of drinks - we dreamed she did. The first call went something like this:

"Dr. Laura, this is Bill Gibbs, skipper of the 52-ft catamaran Afterburner. We rate -145. I'm worried and confused about being able to correct out ahead of the Switch 51 cat Beach House that's in our class, as she rates 168. I'm just not sure we're five minutes a mile faster than the House."

"Well, Bill, it does seem a little odd for a boat that hit 23 knots on her maiden voyage to rate the same as a Cal 3-30 monohull. I empathize with you - and wonder if rater Vic Stern's computer is broken, as the owner of Beach House told me Stern originally wanted to give him a rating of 190 until he complained it was too high. But nobody ever said life would be fair, so do the best you can and smile. Besides, it looks as though it might be so light you can still correct out. One last thing - keep outta my air or else!"

Like we said, it was just a dream.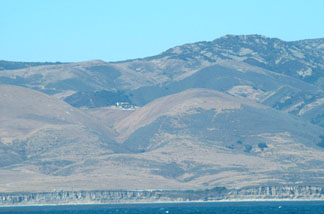 The California coast, just east of Conception - just like it was 5,000 years ago.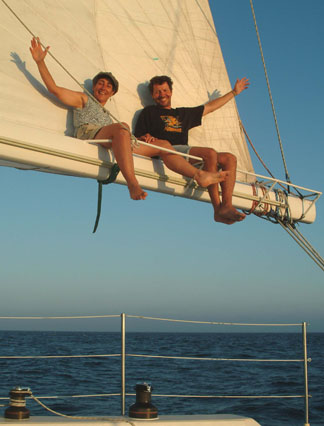 Francois, who singlehanded across the Atlantic years ago without telling her parents, and Christan, a vet of both Mari-Chas, kick back on the boom. Just like our insurance broker would have liked them to do.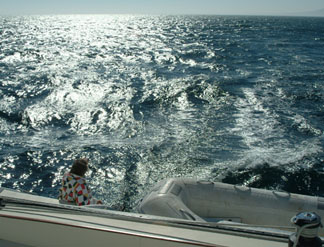 Otis could have the dock of the Bay, the Wanderer prefers the back step of Profligate, while surfing down small waves.
Photos Courtesy Profligate