Santa Cruz-Based TransPac 52s Take Corrected-Time Honors in TransPac
July 27 - Honolulu, HI
Roger Sturgeon's three-year-old TP-52 came from behind to beat Philippe Kahn's brand new TP-52 Pegasus for corrected-time honors in the 43rd TransPac. Kahn owed Sturgeon 3 hours and 50 minutes, but was only able to build a margin of 39 minutes. According to Sturgeon, who also corrected out first in last year's Newport to Bermuda Race, they had no idea they won until they crossed the finish line. They had been too busy surfing down the waves of the Molokai Channel at up to 23 knots. Morning Glory, which took first-to-finish honors, was also first in last year's Newport to Bermuda Race.

Today's TransPac Photos of the Day are of the Lee 66 Merlin crossing the Diamond Head finish line in uncharacteristically sloppy fashion. It happens.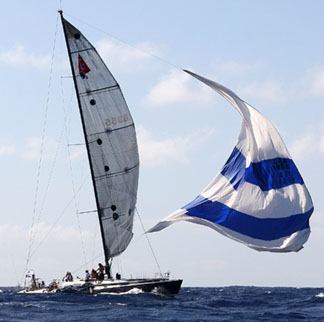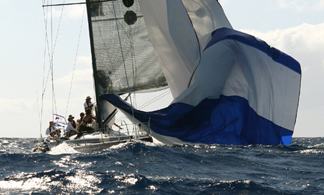 Photos Courtesy Geri Conser
Division By Division Corrected-Time Winners
1) Morning Glory / MaxZ86 / Hasso Plattner / Kiel, Germany
2) Rosebud / TP-52 / Roger Sturgeon / Santa Cruz
3) Reinrag 2 / J/125 / Tom Garnier / Portland
4) Tabasco / ID-35 / Alamitos Bay Syndicate / Alamitos Bay
5) Soap Opera / Hobie 33 / Scott Self / Nigel Brown / Rockwall, TX
6) Ralphie / Cal 40 / Taylor & Davis Pillsbury / Woody Creek, CO
7) Between the Sheets / Jeanneau 52 / Ross Pearlman / Marina del Rey
8) So Far / Swan 48 / Larry Hillman / Chicago, IL

What does it say when five of the eight corrected-time winners, and the first-to-finish boat, are from out of state?
For more details and info, visit www.transpacificyc.org and/or see the August 1 issue of Latitude 38.