Morning Glory Sets 24-Hour TransPac Record
July 20 - Pacific Ocean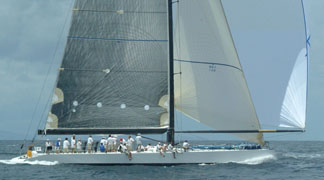 Morning Glory
Photo Latitude/Richard
Yesterday Hasso Plattner's Germany-based MaxZ86 Morning Glory pulled ahead of sistership Pyewacket and the other Class A boats in her second day of the TransPac, reeling off 393 miles, crushing the old TransPac 24-hour record by nearly 50 miles. Nonetheless, it's still nip and tuck with Pyewacket and Genuine Risk, which are within about 10 miles. These boats are so fast in even the mild conditions they've been having, we're confident that one of them will set a new course record. If the trades finally kick in, all three of them are easily capable of over 500 miles, and perhaps even the monohull 24-hour record of 530 miles.
With the smaller boats having gotten skunked on wind during their handicap days, the big boats are going to correct out. Currently leading the fleet is Rosebud, Roger Sturgeon's San Francisco-based TransPac 52, followed by ancient Ragtime, the original 'sled' from the '60s, that was bought by a group in a lien sale a few months ago(!), and Morning Glory. That Ragtime is doing so well is blowing everyone's mind, as she was first to finish in the race in '73 and '75.
This also may be a record year for lack of sun. Some of the smaller boats are more than halfway to Hawaii and report having only seen the sun and moon for a few minutes since they left L.A. under overcast conditions more than a week ago. But at least they are starting to see a breeze. Alas, despite their enormous headstart, the big dogs are going to be flying past them in a two or three days.
The news from Rick Gorman's Swan 53 Incredible is that they sighted William Peterson's Newporter 40 Kamera, which he abandoned last month after being dismasted on the last leg of his nine year circumnavigation. She was easy to identify, as she had 'Derelict' spray-painted on the side of her hull.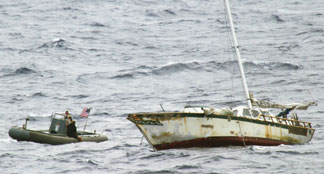 Kamera
Photo Courtesy U.S. Coast Guard