Summer Sailstice on the Bay . . . and Beyond
June 17 - Northern Hemisphere
The following is a paid advertisement:
The 5th Annual Summer Sailstice - and the longest sailing days of the year - are this weekend. So far, sailors from 48 states have signed up for the event, but everyone in the Northern Hemisphere is encouraged to sign up at www.summersailstice.com.
Why sail? Why sign up? Sailing anytime is great, but the solstice - actually on the 21st - is the longest day of the year, so it's a fantastic time to get out and sail. And you should sign up because many of the world's best sailing companies are offering hundreds of prizes just for your participation. You can win a one-week BVI charter with The Moorings, a Hunter Xcite sailing dinghy, $200 gift certificates from West Marine, and more.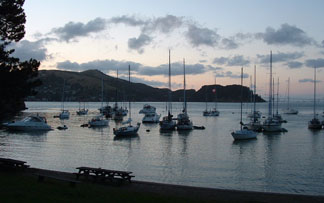 Sunset on the solstice at Angel Island
Numerous Bay Area individuals and clubs have found their own ways to celebrate. Bay Area events includes South Beach YC's cruise to Paradise Cove June 18; Club Nautique's Summer Sailstice 'concert on the water', also at Paradise Cove on the 19th; Sequoia YC will celebrate with a cruise to San Leandro; while six Alameda yacht clubs will welcome sailors and boaters for an open house at each of the clubs from 2-6pm on Saturday. Corinthian and Tiburon YCs will celebrate with their annual 'Friendship Regatta' and an 'in-harbor' Summer Sailstice sleepover at the Corinthian.