Delta Ditch Run
June 15 - Stockton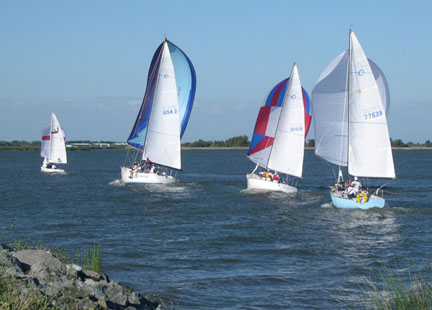 The Express 34 Marrakesh and the Express 27s Baffett and Desperado follow the Wylie Wabbit Keala upriver.
The 15th annual Delta Ditch Run, the popular 67.5-mile downwind charge up from Point Richmond to Stockton, attracted 117 boats last Saturday. The race started with a bang, quite literally, as the starting line inexplicably favored the pin end by about 100 yards. The ensuing 'raft-up' was an epic one, but fortunately no one was hurt.
Thoughts about the odd start were soon forgotten as the pleasant and unusually easy sail upriver unfolded. There was little drama or carnage, other than the Hobie 33 Magic Light dismasting and the usual groundings.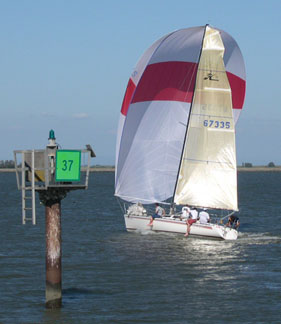 Besides an inverted top batten, all seems well aboard Magic Light, when suddenly . . .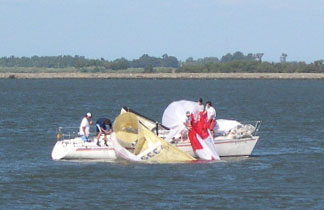 Above Photos John Dukat/RYC
The Santa Cruz 52 City Lights was the first monohull to arrive at Stockton Sailing Club. The Melges 24 Go Dogs Go! corrected out to first place overall. Taking first place in their divisions were:
LIGHT I - 1) Enzo, Hobie 33 turbo, Bill Erkelens, Jr.
LIGHT II - 1) Extreme, Hobie 33, Keith Dettman
HEAVY I - 1) Yucca, 8-Meter, Hank Easom
HEAVY II - 1) Arc Angel, Sonoma 30, Jack Tatum
HEAVY III - 1) Fast Freight, Newport 30, Bob Harford
EXPRESS 27 - 1) Baffett, Tom Baffico
MELGES 24 - 1) Go Dogs Go, Parsons/Hawkins
WYLIE WABBIT - 1) The White Boat, Andy Hamilton
MOORE 24 - 1) Ngelew Fejj, Shana Phelan
MULTIHULL - 1) Adrenaline, D-cat, Bill Erkelens, Sr.
CRUISING - 1) Sail A Vie, Hunter 30, Wayne Wilson
See www.stocktonsc.org for complete results, and check out the July issue of Latitude 38 for more coverage.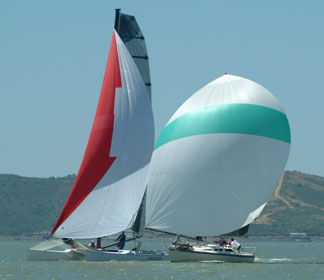 Bill Erkelens, Sr., aboard the first boat to arrive in Stockton, the D-Cat Adrenalin, passes by his own son aboard the division-winning Hobie 33 with the giant kite, Enzo.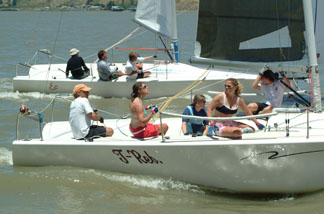 Cam Lewis and his all girl crew aboard Tinseltown Rebellion came in second in the Melges 24 class. Ego, on T-Reb's port side, got a third.
Photos Latitude/Rob