Now That School's Getting Out...
June 3 - Greater Bay Area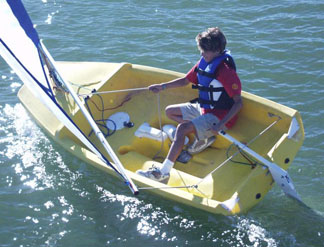 These days you don't have to serve three years before the mast and lose a couple of fingers to become a proficient sailor. One of the best ways to get started is at one of the many junior sailing programs starting up around the Bay this month. Here's a quick rundown, in alphabetical order, of who, what, when and where they are. Please realize that we're noting only basic and intermediate programs for beginning sailors. Many of these clubs and organizations run many other sail training programs for juniors and adults - we don't have room to list them all so check the Web sites. Also note that junior program tuition varies from under $100 to over $500, depending on the program, so again, be sure to check Web sites for pricing and other details. Finally, if we've forgotten anyone - please let us know!
Benicia YC - Ages 9-18. Five consecutive Tuesdays, 4-8 p.m. Session I started May 31; Session II starts July 11. Boats are El Toros and DeWitt Dinghies. www.beniciayachtclub.com, or (707) 746-0739.
City of Oakland - Oakland Parks & Rec runs a number of different programs for junior sailors through the summer at Lake Merritt Boating Center and the Jack London Aquatic Center, including week-long summer camps from June through August, 'Catamaran Camp' and 'Parent/Child' teaching sessions. For more information, www.oaklandnet.com/parks/programs/boating.asp or call Dana Riley at (510) 238-2196.
Encinal YC - Ages 8-18. Three-week summer programs run Monday-Thursday starting 6/13. Contact: www.encinal.org or Lee Laney, (510) 769-0221.
Inverness YC - Ages 10-18. Classes are in El Toros, Lasers and FJs, and you can save some tuition if you bring your own boat. Two-week, day-long classes start 6/27. Contact: www.invernessyachtclub.org/youth-info.html or Jim Pettigrew at (415) 669-7148.
Richmond YC - Ages 13-18. Four two-week sessions through the summer. Includes sailing in several regattas. Students must be junior members. (RYC runs basic sailing classes for ages 8-18 from October-March.) See www.richmondyc.org.
San Francisco YC - Ages 8-16. Boats range in size from Optimist dinghies through Cal 20s. Summer sessions begin June 20. Contact: www.sfyc.org or (415) 435-9525.
Santa Cruz YC - Ages 9-16. Two-week summer sessions (M-Th, half days) through UCSC. Also many other advanced or off-season classes. Contact www.scyc.org or Elisabeth Russell at (831) 476-5160.
Sailing Education Adventures (SEA) - Ages 9-16. Daily two-week classes start 6/13. SEA offers many other programs for juniors and adults. Contact: www.sailsea.org or (415) 775-8779.
Sausalito YC - Ages 9-17. Basic instruction in Optis. Four two-week sessions run from 9 a.m. to 4 p.m. M-F, beginning June 13. Contact: www.syconline.org or Peggy Plumley at (415) 331-5762.
Sequoia YC - Ages 6-14. Beginning and intermediate classes are in El Toros. Three-and-a-half hour sessions two Saturdays per month. Contact: www.sequoiayc.org/junior.html or Phillip Meredith (650) 321-2744.
Spinnaker YC/City of San Leandro Recreation Dept. - Ages 10-18. Four one-week classes starting on Jun 27; Jul 11; Jul 18; and Jul 25. Contact: (510) 577-3462.
St. Francis YC - Ages 7-17. Four-day summer sailing camps on Tinsley Island begin June 26 (kids spend the night in the club's bunkhouse under supervision). Four-day Cityfront sessions begin July 18. Contact: www.stfyc.com or Benjamin Glass at (415) 820-3729.
Vallejo Yacht Club - Ages 9+. Six consecutive Saturdays, 9 a.m. to 2:30 p.m. Session 2 starts 7/9/05. Lessons are given in el Toro, Hunter Club Trainer & Picos. Visit www.vyc.org/jrsail.htm or leave a message for Val McGowan at (707) 645-0538.