Clearing Up the Clearing Procedures in Mexico
May 25 - Nuevo Vallarta, Mexico
"In spite of the great news about the various port captains who have 'got the
message' about the new clearing rules in Mexico," somebody wrote in an unsigned letter, "it doesn't appear that the port captain in Nuevo Vallarta is on the same page! That would explain why the Mexican fellow who used to process ship's papers is still walking the docks.
"We are currently at dock in Paradise Village Marina, and just had a couple stop by in their dinghy after visiting the port captain for a departure tomorrow. They were told by the port captain to come back, before his office closes, at 2:30 p.m., with: 1) A letter from Paradise Marina stating that their bill had been paid, 2) Two copies of the good old Mexican Crew List, and 3) Another copy of the ship's documents.
"I asked the couple why if, for example, Mazatlan, La Paz, and other places are no longer requiring check-in papers (salida) from the last port captain, one would need to get one now from the port captain in Puerto Vallarta? If when you return from, for example Mazatlan, La Paz, where they do not issue check-out (salida) papers, what are you going to give the Nuevo Vallarta port captain? I guess I answered my own question about the paper-processing guy walking
the docks. Somebody still wants him to have a job."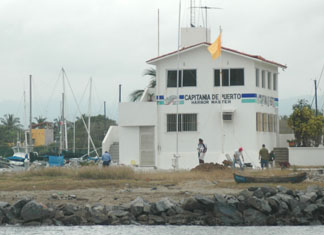 The Port Captain's Office at Nuevo Vallarta. Based on what we've heard, the port captain's procedures are in compliance with the current rules.
Unsigned - We think that you misunderstand the new clearing procedures. Skippers are still required to 'inform' the port captain of their arrival or departure. Sometimes the port captain may delegate this job to the marina, where a log is kept. But no matter if 'informing' at a port captain's office or at a marina, you could - and very possibly will - be asked to produce a Crew List and your ship's document. But what's the big deal with that?
When the new Latitude comes out on Friday, you can read how Pete Boyce of the Northern California-based Sabre 40 Edelweiss checked into Nuevo Vallarta. He hopped in his dinghy for the very short ride to the port captain's office, gave him the basic information, and was done in five minutes. We don't know how anyone can complain about that. There was, of course, no charge.
With regard to the 'paperman' or ship's agents, our understanding is that no port captain can require them, and that none have been. However, that doesn't mean that some cruisers still may not prefer to have a agent do their work for them. For example, when at Barra de Navidad, where the port captain also requires that you clear in and out with him, Boyce paid an agent to visit the port captain for him. The fee was $20. We doubt that most cruisers would do that, but Pete did it voluntarily.
So everything seems to be exactly by the book - and great for cruisers - in Nuevo Vallarta as everywhere else in Mexico. The only thing that seems a little funky is that a government agency seems to be doing a job for private enterprise in checking that a boat's bills have been paid.
You also have to wonder if, when the high season begins, port captains aren't quickly going to weary of having to do a bunch of work with cruisers for which they aren't getting any money. We suspect it won't take long before they all delegate the clearing procedures to marinas.