Mega Race Across the Atlantic this Weekend
May 16 - New York, NY
This coming Saturday is the start of the Rolex Transatlantic Challenge 2005, which is being put on by the New York YC with cooperation from the Royal Yacht Squadron. With 20 entries ranging in size from 70 to 230 feet - and averaging 111 feet - it promises to be an epic event. What makes the 3,000-mile New York to Lizard, UK, event all the more enticing, is that it's the 100th anniversary of the 1905 Great Ocean Race, in which Charlie Barr, three-time defender of the America's Cup, set a 12-day, four-hour course record with the schooner Atlantic that hasn't been topped by a monohull in 100 years. (A number of boats have beaten the course record, but they always picked the perfect weather system in which to start, and weren't part of a scheduled race.) The fleet will arrive in England for the 200th anniversary of the Battle of Trafalgar, one of the most important events in Brit history. They'll also sail around the original America's Cup course, which is around the Isle of Wight.
So who is entered?
Stad Amsterdam, a 230-ft three-masted clipper ship, chartered by members of the Storm Trysail Club, designed by Gerard Dijkstra & Partners, and launched in 2000 as the first clipper ship built in 130 years.
Tiara, a 178-ft Dubois design skippered by owner Jonathan Leitersdorf. She's the only sailboat that can land a helicopter on her aft deck. Although just over a year old, you can pick her up for $28 million.
Windrose of Amsterdam, a beautiful 151-ft schooner that beat the 212-ft Adix to win a previous transatlantic Race.
Whirlaway, a 140-ft Dubois design owned by Randall Pittman, who also owns Genuine Risk, which will be racing in the TransPac.
Mari-Cha IV, the 141-ft canting keel two-masted schooner designed by Clay Oliver, Greg Elliot, Philippe Briand, Mike Sanderson and Jef d'Etiveaud. According to the Rolex PR people, "She holds the WSSRC-ratified passage record for the fastest transatlantic crossing by a monohull yacht." That would be quite a trick, because she's a schooner. She was also first to finish in last year's West Marine Pacific Cup to Hawaii. Mari-Cha is the boat to beat.

Mari-Cha leaving the Bay on her way to line honors in the Pacific Cup
Sariyah, a 131-ft Saudi-owned S&S ketch chartered by Cortright Wetherill Jr., with Tim Laughridge as skipper. Our buddy Tim half-jokingly says he's never really slept soundly on the ketch at sea ever since huge boat suffered a complete knockdown on a race from Miami to New York.
Whisper, a 116-ft Fontaine sloop, skippered by Hap Fauth.
Sojana, 115-ft Farr ketch skippered by Peter Harrison, who founded the last Brit America's Cup effort. One would hope Harrison and crew have the port-starboard right-of-way thing figured out before the start.
Anemos, a 112-ft Swan designed by German Frers.
Maximus, a 100-ft carbon fiber super-maxi, skippered by Charles St. Clair Brown and Bill Buckley, designed by Clay Oliver and Greg Elliot, which features a retractable canting keel - a first - and a rotating wing mast. She's a serious threat to Mari-Cha. However, Maximus was only launched about 20 minutes ago. She missed her debut at Antigua Sailing Week when the ship full of onions delivering her from New Zealand broke down. And she just arrived in the Northeast from Antigua, reportedly in disarray.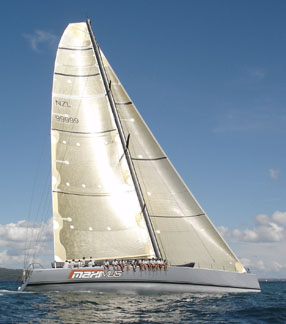 Maximus
Photo Courtesy Rolex
Leopard of London, an R/P 98 skippered by Mike Slade. We sailed on this lovely yacht at Antigua, and wish Slade - a really nice guy - and his crew the best of luck.
Sumurun, a 94-ft Fife ketch built in 1914 skippered by A. Robert Towbin. Oh, the history of this yacht. Towbin carries on with great historical style. She won her class in the 1997 Atlantic Challenge Cup.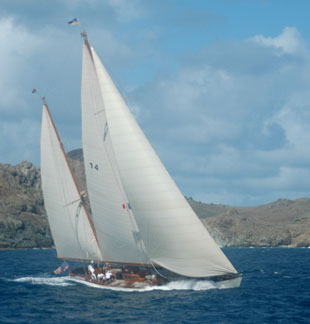 Sumurun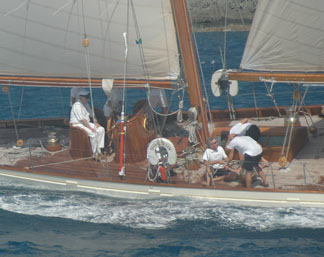 A. Robert Towbin, sitting in the captain's chair, putting on the style aboard his classic woodie Sumurun in the Around St. Barth Race.
Nordwind, an 88-ft composite ketch, skippered by Dr. Hans Albrecht. The A. Gruber design was built in 1938 and held the Fastnet Race record for 20 years.
Carrera, a 81-ft R/P sloop skippered by Joe Dockery. She was the first yacht to finish the 2004 Newport to Bermuda Race.
Mariella, the 80-ft Alfred Milne design built by Fife in 1939. She'll be skippered by owner Carlo Falcone, who also owns the marina in Falmouth Harbor, Antigua. He's another of the great guys of sailing.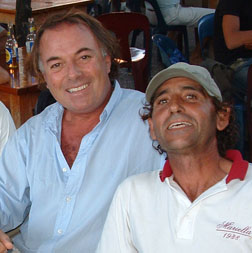 Carlo Falcone, left, of Mariella, at Cheeseburgers in Paradise with Antonio de Mortes, our old skipper on Big O.
All Photos Latitude/Richard except as noted
Seleni, an 80-ft Swan designed by German Frers.
Ocean Phoenix, 77-ft sloop designed by Rob Humphries.
Palawan, a 75-ft sloop designed by Ted Hood.
Telefonica MoviStar, the 70-ft sloop is the Spanish entry in the 2005 Volvo Ocean Race.
Stay Calm, a 70-ft Swan sloop designed by German Frers.