Photo of the Day
May 13 - Tiburon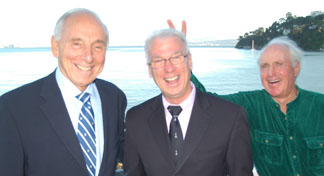 Today's Photo of the Day is of, from the left, Joe Vittoria, owner of the 247-ft Mirabella V, which is by far the largest sloop in the world, Ron Holland, designer of Mirabella, and Warwick 'Commodore' Tompkins, who is partly responsible for Holland becoming one of the top three naval architects in the world as opposed to a drummer for the Grateful Dead. Commodore is also responsible for the child-like levity of the photo. Joe and Ron had been gracious enough to travel all the way from the East Coast and Ireland respectively, just to give a presentation of Joe's new boat at the Corinthian YC.
Earlier in the day, we and some others had a chance to have lunch with Joe, Ron and Tom Perkins, whose nearly 300-ft Maltese Falcon is nearing completion in Istanbul. It was the first time that Vittoria and Perkins had met, and it was interesting to note the many ways in which they were similar: both grew up sailing as youngsters on Long Island Sound "when there was still wind on Long Island Sound," have engineering backgrounds, were very successful in a variety of businesses, have sailed all their lives, dislike powerboats, and love the challenge of building huge sailboats on which everything has to be custom made. But perhaps most important of all, despite having passed 70 years of age, they still have passion.
We'll have more on the two of them in the June issue of Latitude 38, but we'll give you two examples of the challenges they faced, and both have to do with the masts.
Stepping the nearly 300-ft mast on Mirabella required the largest crane in Europe, and could only be done when there was less than 13 knots of wind. Stepping the mast was an all-day project because everything was so big. The roller furling systems on the headstay and babystay, for example, weigh 3.5 tons and 3 tons respectively, so you don't hook those up in two minutes. About halfway through the stepping, Joe asked the crane operator what would happen if the wind started blowing more than 13 knots. "We'd have no choice but to drop the mast into the river." Getting a replacement would only take a couple of years.
As for Perkins, he needed three carbon fiber free-standing masts as tall as 192 feet. Since nobody makes anything like that, he had to do it himself. He started by buying 25 tons of carbon fiber thread in the Far East, which rated a 'thank you' note from the manufacturer. Then he had to overcome the problem of exporting material used in B-1 bombers to an Islamic country, because he was creating a mast-building facility, and training the workers, for the Perini Navi yard in Istanbul. It's been risk after risk, and challenge after challenge - which is what these guys love. By the way, Mirabella took seven years from concept to completion, and Maltese Falcon will have required about 4,000,000 man-hours before she's done later this year.
As for Ron Holland, whose sailing career has deep roots in the Bay Area, he announced that he's designing another giga sailing yacht for a Northern California client. She'll be a 190-ft ketch for Bill Joy, who apparently made a little money over at Sun Microsystems. The boat should be done in two or three years.