New Dates for This Fall's Baja Ha-Ha
May 9 - Tiburon
"This year's Baja Ha-Ha XII will be held October 31 to November 12, a week later than tentative dates proposed at the end of last year's event," announced Lauren Spindler, President of Baja Ha-Ha, Inc. "The later date eliminates a minor problem some boatowners might have had with their insurance companies, and also means that the Wanderer will be able to return as the volunteer Grand Poobah for the tenth year in a row. I know that some folks have already arranged vacation schedules for the earlier date, but hopefully this will give them enough time to make the necessary changes. I apologize for any inconvenience."
As Latitude readers know, the Baja Ha-Ha is the 750-mile cruisers' rally from San Diego to Cabo San Lucas, with stops at funky but fun Turtle Bay and spectacular Bahia Santa Maria. The event is open to monohull and multihull sailboats and motor vessels 27 feet or longer that were designed, built, and have been maintained for offshore passages. Smaller vessels may apply for special dispensation.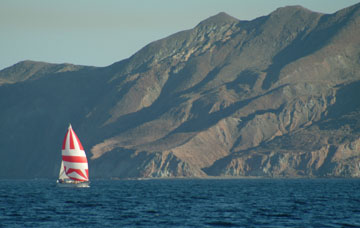 Sailing in the warm wind off Mag Bay some 175 miles north of Cabo San Lucas
The Ha-Ha is absolutely not an offshore hand-holding service, and is only open to skippers and crews who would have sailed their boats to Cabo anyway. While weather conditions on the Ha-Ha course have generally been benign - 31 of 33 legs to date have been downwind - everyone must be prepared for whatever the Pacific Ocean might dish out. Entries must have a minimum of two crew, and at least two crew on each boat must have overnight offshore experience.
The concept behind a rally as opposed to a race is for folks to have fun sailing with friends rather than against them. As such, every boat that finishes the Ha-Ha is a winner, no matter if engines have been used for safety and/or convenience. Nonetheless, folks are encouraged to sail as much as possible, and those who sail the entire course are cited for being 'soul sailors'. There is a roll call each morning which includes checks for medical and mechanical emergencies, a professional weather report from Commander's Weather, a request for positions from all boats, and a brief chat-up about fish that were caught and other fleet news.
Last year participation in the Ha-Ha inexplicably exploded from the recent norm of 100+ boats to 145 boats and 550 sailors. Ms. Spindler doesn't expect the fleet to be as big this year, but she thinks she knows why the Ha-Ha is so popular.
"Past participants have told me they like three things about the Ha-Ha: First, the generally warm and benign weather conditions have meant that it's usually been a pleasure sail as opposed to a white-knuckle enduro. Of the 33 Ha-Ha legs sailed so far, 31 of them have been downwind, usually in less than 18 knots of wind. Nonetheless, when participants arrive in Cabo, they generally feel a genuine sense of accomplishment. Second, participants really love the fact that every couple of days they get to stop, rest, explore, and socialize. There's no opportunity to do that in the races to Hawaii or the Caribbean 1500 and ARC rallies. By the time Ha-Ha participants get to Cabo, they've bonded with scores of new sailing friends. Finally, folks who do the Ha-Ha seem to love the fact that unlike other long distance sailing events, they're almost always in sight of five to 15 other boats. It's fun and gives folks a greater sense of security."


Some of the participants in last year's Ha-Ha on the beach at Cabo
Photos Latitude/Archives
It doesn't hurt the Ha-Ha's popularity that the $299 entry fee is a fraction of what's charged for similar events. And Ha-Ha participants get all kinds benefits, such as discounts from North Sails, the official sailmaker of the event, and other sponsors. In addition, there's plenty of swag - tote bag, Ha-Ha T-shirt and hat, 'Some Like it Hot' T-shirt, Pusser's Rum hat, burgee, frisbees, beach balls, and we don't know what all. West Marine sponsors a free lunch at the Kick-Off Party in San Diego, there are beach parties with low cost food and beer at Turtle Bay and Bahia Santa Maria, the folks at Baja Cantina will be offering free drinks and finger foods to all arrivals in Cabo, and Marina Cabo San Lucas usually passes out a couple of beers to everyone at the awards party. In addition, Marina Cabo San Lucas sets aside all vacant slips for Ha-Ha boats, and often offers discounts. But the biggest value of all is the chance to meet and sail with hundreds of really great folks. Ha-Ha vets report having a great time meeting up with other Ha-Ha boats in Mexico later in the season - and around the world years later.
The Ha-Ha will be managed by the same volunteer core as for the last nine years: Richard Spindler, the Grand Poobah; 'Banjo Andy' Turpin, the Assistant Poobah; Doña de Mallorca, Chief of Security; and the crew of the mothership Profligate. The Grand Poobah sees his job as that of trying to facilitate everyone's pleasure rather than issuing a bunch of rules and telling people what to do. As such, he's had no problem with boats that have wanted to start late, start early, start from Ensenada, make side trips to Guadalupe Island, stay an extra day in Turtle Bay or Bahia Santa Maria, and so forth. The Poobah just needs to be told about these variations so that all boats can be accounted for.
The Ha-Ha is all about responsible fun. As such, participants are forbidden from polluting the ocean, and encouraged to pitch in to make sure the beaches are left cleaner than they were found. The Poobah doesn't mind drinking at the beach parties, but drunks will be given the boot. Fortunately, nobody has ever gotten the boot yet. There is a time and place to get wild and crazy. That's after the Ha-Ha at Squid Roe, where there are plenty of bouncers and police to supervise.