Internet Access at Anchor at Punta Mita, Mexico?
May 6 - Punta Mita, Mexico
It could happen.
According to Jim Corenman, who co-founded SailMail with Stan Honey, and who circumnavigated with his wife Sue aboard their Schumacher 52 Heart of Gold, there are no technical obstacles to boats a mile - or two or three - from an
antenna being able to log on the Internet. In fact, we watched Steve and Dorothy Darden, formerly of Tiburon, surf the net at high speed while aboard their M&M 52 cat Adagio some five miles from the antenna.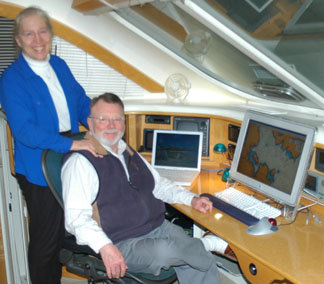 Steve Darden, with Dorothy at his back, surfs the Internet at high speed aboard the couple's M&M 52 cat Adagio in the Pacific Northwest.
Photo Latitude/Richard
According to Corenman, all that would be needed in Punta Mita is some place willing to host the antenna, and somebody willing to pay for the antenna and other gear. So immediately we got in contact with the folks who will be operating the Punta Mita Yacht & Surf Club later this year.
They said, "Sure, we'll host the antenna!" Then we got in touch with the honchos at Latitude 38. They said, "Sure, we'll pay for the antenna and other gear as a
service to cruisers!"
Can you imagine waking up at Punta Mita and surfing the waves for a few hours, then surfing the net on your boat for a few hours, before setting the chute and sailing for a few hours? We can. Cowabunga!
It's also possible that if sponsors could be found, such access might be available to SailMail members for free. Caution: Nobody is promising this is going to happen, but it could. It really could. We could also visualize it happening at Zihua, Tenacatita Bay, La Cruz, and La Paz.
By the way, Corenman tells us that SailMail has nearly 3,000 subscribers that send a total of nearly 10,000 emails a day. What a tremendous service!